Another London Performance by the Amazing Masca Theatre Company
07/12/2016 @ Romanian Cultural Institute, 1 Belgrave Square, London SW1X 8PH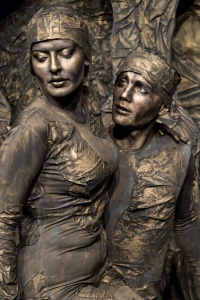 After a successful string of performances on the Thames shore this summer, Masca Theatre returns to London to present another of its ground-breaking shows. We are excited to host, in our newly created theatrical space at 1 Belgrave Square, the awesome performance of 'The Wall', a production based on the non-verbal, "living statues" signature technique perfected by the intrepid company established and led by famous thespian Mihai Mălaimare.
Caught in the merciless embrace of the Wall, He and She live their life thinking to escape and constantly attempting it. Everything they dream and do is devoted to this goal. With every new effort they succeed in making some progress but immediately their victory is turned into a failure and the Wall embraces them again and again in its ruthless drive to transform them into brick and mortar.
'The Wall' / 'Zidul'
Cristina Panait - HER
Eugen Fetescu - HIM
Directed by: Mihai Mălaimare
Set design: Remus Alexandru Gabor
Music: Răzvan Alexandru Diaconu
Choreography: Mirela Simniceanu
Founded in 1990, Masca Theatre is the only Romanian company specialised in mime, gesture and physical theatre.
When: Wed, 7 December 2016 from 19:00 to 21:00
Where: Romanian Cultural Institute - 1 Belgrave Square London SW1X 8PH
Entrance is free but it is required to book your ticket on Eventbrite.
Please note that the seating is unreserved.