Pianist Andrei Licareț in the Enescu Concerts Series
06/06/2019 @ Romanian Cultural Institute, 1 Belgrave Square, London SW1X8PH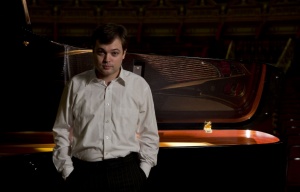 Our guest musician in this month's ever-popular "Enescu Concerts" Series is charismatic pianist Andrei Licareț, whose "rich artistic maturity and depth go beyond the boundaries of a simple ability" (L'Unione Sarda). With a programme of beloved works spanning three European countries, the artist will boast his commanding technique and nuanced interpretations yet again.
Programme:
George Enescu - Pavane and Toccata from Suite No.2, Op.10
Robert Schumann - Kreisleriana Op. 16
Frédéric Chopin – Preludes Op. 28
Born in Bucharest, Andrei Licareţ began his piano studies with his father at the age of 5. At the age of 11, he debuted as a soloist, performing the Concerto for Piano in C major, KV 246 by Mozart with the Chamber Orchestra of the Bucharest Philharmonic Orchestra. He attended the Music School "George Enescu" in Bucharest, where he studied with Gabriela Enăşescu, and later went on to study with two of the greatest piano teachers, Jacques Rouvier, at the Conservatoire Supérieur de Musique et de Danse de Paris and at Universitaet der Kunste Berlin, as well as the legendary pianist Leon Fleisher at Peabody Consevatory in Baltimore. He also participated in the Steans Institute's young musician program at the famous Ravinia Festival.
Andrei Licareţ won the First Prize at Jeunesses Musicales and Bucharest Yamaha and was awarded the Lory Wallfisch Prize. He also received the 2nd Prize at the Tel-Hai Contest and the Shreveport Concert Contest. In April 2013, the pianist held a very applauded recital at the Chamber Hall of the Moscow Philharmonic and, in February 2013, he made his debut at Carnegie Hall. A versatile musician with numerous solo and chamber music concerts, Andrei Licareț had concerts in Paris, Vendôme, Santander, Berlin, Würzburg, London, Rome, Lucca, Livorno, Thessaloniki, Copenhagen, Istanbul, Prague, Tel-Aviv, Warsaw, Brussels, Madrid, New York, Washington DC, Boston, Houston, etc. As a soloist, he was invited by the most important Romanian orchestras as well as ensembles from Lübeck, Würzburg, Cagliari and Mexico City, collaborating with well-known conductors such as Cristian Mandeal, Horia Andreescu, Cristian Macelaru, Gerd Schaller, Jin Wang, Arnold Ostman, Arie Vardi, Ilarion Ionescu-Galati, Florentin Mihãescu, Anthony Bramall, Justus Franz and Jose Arean. Licareț made recordings at the Romanian Broadcasting Company with works by Mozart, Beethoven, Brahms, Chopin and Ravel.
When: Thursday 6 June 2019, 19:00
Where: Romanian Cultural Institute, 1 Belgrave Square, London SW1X 8PH
Entrance is free but it is required to book your ticket on Eventbrite. Unreserved seating.