Andrei Bodiu @ Poet in the City
20/10/2011 @ Institutul Cultural Român Londra, 1 Belgrave Square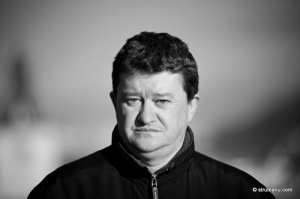 Special Guest: George Szirtes
Join us for a new evening of inspiring verse and sparkling conversation with Romanian poet Andrei Bodiu and special guest George Szirtes, part of the Contemporary Romanian Poets series organised in collaboration with Poet in the City.
Andrei Bodiu is a poet, literary historian and professor born in 1965. From his earliest publication Breathing Pause (1991), to the more recent Patriotic Poems (1995), The Direction of the 1980s in Romanian Poetry (2000) and the award-winning anthology Studies on Life and Death (2000), Andrei has extensively explored poetry and its cultural motifs through poems and literary criticism. His poetic works have been translated into more than eight European languages.
Andrei will be joined by special guest George Szirtes. He was born in 1948 in Budapest and came to England as a refugee following the Hungarian Uprising in 1956. He is the author of several collections of poetry, his first being The Iron Clouds (1975). His Selected Poems 1976-1996 appeared in 1996, and his New and Collected Poems in 2008. The poetry collection Reel (2004) was awarded the 2004 T.S.Eliot Prize. He is also the author of sixteen plays, musicals, opera libretti and oratorios. More details: http://www.georgeszirtes.co.uk/.
The event will be hosted by Amanda Hopkinson, a Senior Fellow at the University of East Anglia and Visiting Professor of Literary Translation at Manchester University and at City University, London, who will provide an English introduction and will place the poets in context for the English-speaking members of the audience. Poetry in Romanian will also be read and performed in English translation by actress Cristina Catalina.
This is the fifth event of the poetry series exploring contemporary Romanian culture through the eyes of its most accomplished poets: Denisa Comanescu, Claudiu Komartin, Bogdan Ghiu, Miruna Vlada, Andrei Bodiu and Vasile Garneţ.
When: Thursday 20 October, 7.00pm
Where: Romanian Cultural Institute, London
Admission free, but booking is essential at: 020 7752 0134 or office@icr-london.co.uk.