Andrei Blaier's 'Through the Ashes of the Empire' at the Romanian Cinematheque
30/03/2016 @ Romanian Cultural Institute London, 1 Belgrave Square, SW1X 8PH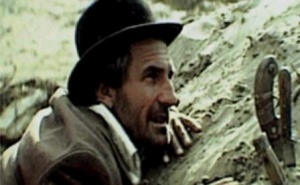 Romania commemorates this year the centenary of its entry into the Great War, a belated yet fateful decision that led to the creation of Greater Romania in 1918. We shall be revisiting those decisive years in a series of events that bring about the incertitude, the soul-searching, the tragedy and the eventual triumph through artistic means - and we start with film.
The Romanian Cinematheque at RCI London, now entering its sixth year, presents Andrei Blaier's masterpiece 'Through the Ashes of the Empire' - a picaresque tale of betrayal, survival and coming of age, starring the great Gheorghe Dinică in one of his most terrific performances. Also featuring Gabriel Oseciuc, Cornel Coman, Ștefan Sileanu and Ferencz Bencze. Adapted from the novel 'A gamble with death' by Zaharia Stancu.
Part road movie, part moral allegory, the film follows two characters with contrasting personalities as they escape from a Bucharest occupied by the Germans only to come across, as they progress 'through the ashes' of the Austro-Hungarian Empire, the sufferance, despair, generosity and heroism that will lead them to very different conclusions.
Romania | 1976 | 101 min | Directed by: Andrei Blaier | With: Gheorghe Dinică, Gabriel Oseciuc, Cornel Coman, Ștefan Sileanu and Ferencz Bencze. In Romanian with English subtitles.
The Romanian Cinematheque is a project developed by RCI London in partnership with the National Centre for Cinematography in Romania.
When: 30 March, 7pm
Where: Romanian Cultural Institute, 1 Belgrave Square, London SW1X8PH.
Admission is free and the seats are allocated on a first come, first served basis. Please confirm your attendance at Eventbrite.