Anda Vahnovan meets Paula Erizanu. Literary Conversation and Book Launch
19/05/2022 @ Romanian Cultural Institute, 1 Belgrave Square, SW1X 8PH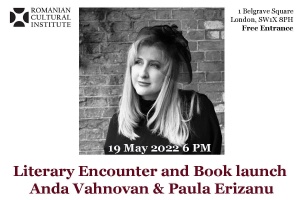 Join us for a fascinating and thought-provoking literary conversation featuring two brilliant and brave authors: Anda Vahnovan and Paula Erizanu. Anda has just launched her poetry book entitled Sârme this year and Paula has some major literary plans as well. The event is moderated by Roxana Dumitrache (RCI London).
Anda Vahnovan meets Paula Erizanu | Literary conversation and book launch | 19 May, from 6 PM | RCI London, 1 Belgrave Square | Free entrance
Anda Vahnovan is a poet and journalist. She is a graduate of Babeș-Bolyai University in Cluj-Napoca, specialized in journalism. The master and doctorate were defended at the Faculty of Sociology within the same university. She worked as an editor at the Timpul newspaper and at the Punkt magazine in Chisinau. She also worked as a teaching assistant at the Faculty of Journalism and Communication, State University of Chisinau. Since 2017 she has been living in London. She made her literary debut (2017) in the magazine "Literature and Art", Chisinau. Since then, she has published pieces in magazines such as "Contrafort", "Ithaca" (Dublin), "Cultural Realities", as well as on the platform "A Thousand Signs" and "Poetic Stand". This year she has published Sârme, at Casa de pariuri literare.
Paula Erizanu is a writer and a freelance journalist focusing on ideas, people, the arts, and eastern Europe. Her writing has appeared in CNN, The Guardian, and Dazed, among others. She was the Culture Editor of The Calvert Journal between 2019-2022. Her work has also appeared in The Guardian, London Review of Books, CNN, Aeon, Dazed, The Architectural Review and other publications. Erizanu did her BA in History with English and History of Art at the New College of the Humanities in London, and her MA in Magazine Journalism at City University London. She published a book on the 2009 protests in Moldova, This is my first revolution. Steal It (Cartier, 2010, trilingual edition), a poetry collection, Take Care (Charmides, 2015, Romanian), and has coordinated the three-part anthology A Century of Romanian Poetry Written by Women (Cartier, 2019, 2020, Romanian), together with Alina Purcaru. In 2019, she was nominated for the Words by Women award as UK's culture journalist of the year. Her debut novel, The Woods Are Burning, a fictionalised historical account of the lives of early Soviet feminists Alexandra Kollontai and Inessa Armand, was published in Romanian in 2021. The book won Erizanu the Young Writer of the Year 2021 title at Bucharest's Young Writers Gala. It was also shortlisted for the Sofia Nădejde Prize in Romania and Festival du Premier Roman in Chambery, France.
Anda Vahnovan meets Paula Erizanu | Literary conversation and book launch | 19 May, from 6 PM | RCI London, 1 Belgrave Square | Free entrance