Ancient Delis: Trei Parale Ensemble in Concert
09/04/2014 @ Romanian Cultural Institute in London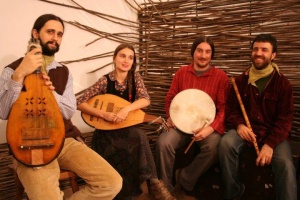 Engaged for more than 10 years in a passionate effort to revive Romanian court and urban music of the 18th and early 19th centuries, TREI PARALE, a group of versatile musicians playing old instruments, has succeeded in rescuing some of the juiciest scores of this forgotten, yet marvellous tradition. The mellow, jaunty melodies, which provided the background to a lazy life of Oriental indulgence, constitute the musical ingredient of our programme at the London Book Fair 2014.
Bounce with us on the langurous tempos of old Romania and enjoy a spicy taste of faded splendour!
TREI PARALE was formed in 2003 and is made of Florin Iordan – kobsa, pipes, Daniel-Mircea Pop – voice, pipes, Mihai Balabaş – violin and Dinu-Traian Petrescu – percussion.
When: 9 April, 7 pm
Where: Romanian Cultural Institute, 1 Belgrave Square, London SW1X 8PH
Free entrance, but places are limited. Please confirm your attendance at T: 020 7752 0134, E: office@icr-london.co.uk