Ancestral Roots and Modern Vibes in One Jazzy Trumpet: Sebastian Burneci
29/03/2012 @ 606 Club, 90 Lots Road, London SW10 0QD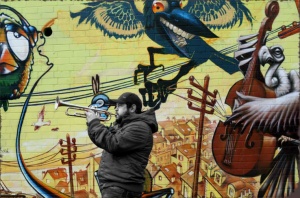 Best described as an "amazing player with an original and wide range of sound" (Alex Sipiagin), Sebastian Burneci will dazzle the legendary 606 Club's audience, one of the oldest and most prestigious London jazz venues, within our ongoing partnership.
Having a thorough training in both classical and jazz music, Sebastian is widely recognised as one of the finest trumpet players of his generation. He delivers rhythmic and compelling sounds and startling originals, full of unexpected turns.
Upon graduating the "Regina Maria" Music Lyceum in Constanţa, he moved to Bucharest in 2001. He studied classical trumpet with Iancu Văduva at the Romanian National Music University and started collaborating with the Romanian National Radio Symphonic Orchestra and the Romanian National Philharmonic. As he soon became one of the most important figures of the musical scene, the Romanian National Radio Society offered him the lead trumpet chair at the National Radio Big Band led by Ionel Tudor. To support himself through school, Sebastian also started playing with several pop-rock bands, soon to become a "professional sideman".
He is currently living in Amsterdam and studying the second major in jazz trumpet at the Prins Claus Conservatorium in Groningen, with Alex Sipiagin, Kurt Weiss and Peter van Soest. However, Sebastian also continues to be involved in the classical music scene, performing a piano duo with the Romanian pianist and conductor Simona Strungaru.
Presented in partnership with the Romanian Cultural Institute in London, this concert is part of an ongoing "European Exchange" initiative promoted by the 606 Club, in order to provide a platform for some of the finest European musicians to perform in the home country of the guest artists. In this way it is hoped that the music of these fine players can be brought to a wider audience around Europe.
When: Thu 29 March 2012, 7.30pm
Where: 606 Club, 90 Lots Road, London SW10 0QD
Tickets: £10 at +44 (0)20 7352 5953 or at the door.