'Ana, Mon Amour' at Dublin International Film Festival
01/03/2018 @ Light House Cinema, Dublin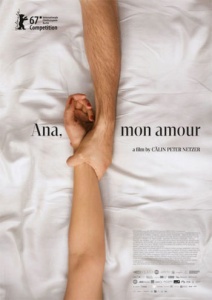 We are thrilled to be partnering again with the biggest film festival in Ireland and support the screening of 'Ana, Mon Amour', Cãlin Peter Netzer's gripping drama that subtly depicts the dynamics of a couple's relationship. Lead actor Mircea Postelnicu will be the guest of honour at this edition and will take part in a Q&A session afterwards.
A Silver Bear winner for technical achievement at Berlin, Cãlin Peter Netzer's drama about a passionate and co-dependent relationship treads new ground. Blending a love story with that of mental fragility, it centres on Toma and Ana, a couple who fall deeply in love after meeting at university. She has family issues and suffers from crippling panic attacks, but enjoys full support from her lover, as they both begin to isolate themselves from others in what is a fascinating take on love and human nature. (Dublin Film Festival)
Dense and complex, Cãlin Peter Netzer's drama about doomed romance handsomely rewards the patient viewer.
Gráinne Humphreys, Festival Director
Established in 2003, The Audi Dublin International Film Festival (DIFF) has fast become Ireland's premier feature film festival and takes place in Ireland's capital city over the course of eleven days and nights each spring.
The screening is also supported by the Embassy of Romania in Dublin.
When: 1st March 2018. 8.30PM
Where: Light House Cinema, Dublin
Tickets: here