An Oxonian in the East: Tom Wilson's 'The București Experiment' at the Romanian Cinematheque
25/09/2014 @ RCI London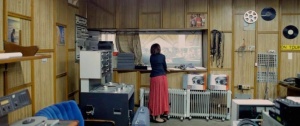 The Romanian Cinematheque's autumn season debuts with a controversial film that claims precedence in several respects: it is the first documentary included in our programme, it is screened in London for the first time and it is made by a first-time director.
'The București Experiment' premiered at Transylvania International Film Festival (TIFF) in June 2013 and in 2014 won the GOPO Award for documentary. The film was shot between August 2012 and May 2013 with a budget of 250 EUR ('The hard-disk which I sent the film to TIFF on is the greatest cost for me during production so far!' - the director remarked).
Clever and playful, the documentary interrogates the objectivity of history and the transition from one political system to another through the sinuous and painful process of transforming a supressed population into a democratic community.
'The debut of British director Tom Wilson attempts to uncover an unsavoury episode in Romanian history' (Boyd van Hoeij, www.cineuropa.org)
'Wilson came to Romania in 1999, with only a backpack, and decided to move there in 2002 after graduating in Politics, Philosophy and Economics from Oxford University. Since then he has worked as a journalist for the BBC, Time Magazine, Dazed and Confused, and The Guardian. He is now directing commercials, documentaries, and short films for various clients and agencies' (Iulia Blaga, www.filmneweurope.com)
THE BUCUREȘTI EXPERIMENT
Directed by: Tom Wilson
Cast: Carmen Anton, Andrei Juvina, Justin Capră
Duration: 68'
Year: 2013
In Romanian with English subtitles.

When: Thu 25 September, 7pm
Where: Romanian Cultural Institute in London, 1 Belgrave Square, SW1X 8PH

Free entry.