An Outstanding Selection of Romanian Modern Art ON RCI London's Gorgeous Building, 1 Belgrave Square
14/01/2022 @ Romanian Cultural Institute, 1 Belgrave Square, London, SW1X8PH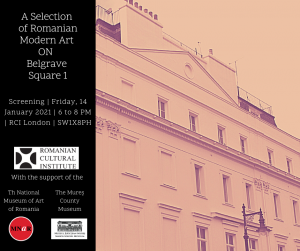 RCI London is celebrating Romania's National Culture Day with an outstanding screening featuring Romanian Modern Art. The viewer will be immersed in a rich and varied collection of Modern Art showcasing works by well-known Romanian painters such as Theodor Aman, Nicolae Grigorescu, Ioan Andreescu, Ștefan Luchian, Victor Brauner, Marcel Iancu, Nicolae Tonitza, Iosif Iser, Alexandru Ciucurencu among others. Two works by Constantin Brâncuși and Dimitre Paciurea will be featured.
Romanian Modern Art ON RCI London's façade | 14 January 2022 | starting 6 PM | 1 Belgrave Square, SW1X8PH
This brief, yet spectacular and unique overview of Romanian painting highlights the complexity and diversity of modern local trends and their interference with European art shaping Romanian modernism. The changes wrought by the pandemic demonstrate once again the coalescing power of art and viewing works in the flash can never be replaced. The screening is, thus, an homage to Romanian art but also a message of gratitude towards all the art institutions and contemporary artists who faced the immense challenges of the pandemic.
The featured works are included in permanent exhibitions of The National Museum of Art of Romania, and The Mureș County Museum that we are highly recommending you to visit.
With the support of the:
The National Museum of Art of Romania