An Explosion of Youthful Verve at St Martin-in-the-Fields
29/01/2019 @ St Martin-in-the-Fields, Trafalgar Square, London WC2N 4JJ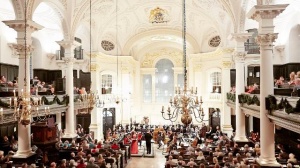 Our 9th year of lunchtime concerts at the prestigious St Martin-in-the-Fields kicks off with a new collaboration. Romanian students of the Purcell School for Young Musicians – Iohan Coman (violin), Kira Frolu (piano), Rebeca Lazăr (violin), Ioan-Octavian Pârlea (violin) and Radu Stoica (piano) – will chase away the wintry winds with their ardent interpretation of works by Mozart, Enescu and Stravinsky.
Programme:
Edouard Lalo - Symphonie Espagnole: III Intermezzo
George Enescu: Suite No. 1 In G Minor - Dans Le Style Ancien, Op. 3: Prélude & Fugue
Wolfgang Amadeus Mozart - Concerto No. 5 in A Major: II Adagio
Eugène Ysaÿe - Ysaye Ballade from Sonata No. 3 in D Minor
Igor Stravinsky - La semaine grasse from Trois mouvements de Pétrouchka
Mara Prună - Pianorama
Ioan-Octavian Pârlea has been playing violin since he was seven years old. He started his violin studies at the Tudor Ciortea High School in Brasov and then, in the fifth grade, he was transferred to Dinu Lipatti School in Bucharest. He won prizes at several national Olympiads of violin, as well as several national and international competitions. Ioan-Octavian also attended master classes with Alexandru Gavrilovici, Evgenja Chugaeva, Anatoljevna Polozova In 2016, during a master organized in Sinaia mountain resort, two international masters of violin noticed the young Romanian and invited him to take the admission exam at the Purcell School.
Kira Frolu is a prize-winner of several international competitions, including "Chords of Khortitsa" and "Vladimir Krainev" (Ukraine), "Maria Tjarri" (Cyprus), "Pianale" (Germany), "Jeunesses Musicales" (Romania), "Young Pianists of the North" (UK) and others. She started playing the piano at Music School no. 3 in Bucharest, then continued her studies with prof. Elena Petrenco at the "Dinu Lipatti" Music School and privately, with Maria Masycheva in Berlin. She represented the school numerous times at the biggest national competition and other local international competitions, where she was awarded the first prize. Since 2016, Kira has been studying with prof. William Fong at the Purcell School for Young Musicians, where she has been supported by the Government's Music and Dance Scheme. Starting September 2018, she has been studying at the Royal Academy of Music.
At the age of seven, Rebeca Lazăr started her violin education with Doru Munteanu, at the George Enescu National College of Music in Bucharest. She participated in several national competitions such as Iosif Sava, Dinu Lipatti and George Enescu. She then got a place at The Purcell School, where she studies with Charles Sewart, Head of Strings. Outside school, Rebeca also studies the violin with Remus Azoitei, Professor at The Royal Academy of Music. In 2016 and 2017, she took part in the Summer Music Academy Sinaia, which is a masterclass organised by Jeuness Events in Romania. Last year, Rebeca was one of the winners of Purcell's Middle School Concerto Competition. She has participated in multiple masterclasses, both solo and chamber repertoire, with Levon Chilingirian, Remus Azoitei, Irina Muresanu and Ileana Baltaga.
Iohan Coman was born in Paris, France in September 2001. At age of four, he started learning the violin at the 'S. Rachmaninov' Conservatoire in Paris and also studied at the 'Slav-Bagnolet' Conservatoire in Paris. Shortly after moving from Paris to Bacău in Romania in 2009, Iohan performed as a soloist with the Mihail Jora Philharmonic Orchestra in Bacău and, a couple of years later, with the National Chamber Orchestra in Chisinau, Moldova. As well as performing with various different orchestras, Iohan has won several competitions around the world. In March 2015, he won the National Music Theory Competition Constantin Constantinescu in Iași, Romania. Shortly afterwards, he also won the Whitgift International Music Competition in London, England. More recently, Iohan won several competitions in Romania, such as the National Olympiad for Instrumental Interpretation, the 20th National Primavara Artelor competition and the National Contest of Contemporary Violinists. In August 2018, he moved to Birmingham with his family and currently studies at Purcell.
Born in Alexandria, Southern Romania, Radu Stoica started studying the piano at the age of six. In 2012, Radu moved to Bucharest to continue his studies at The National College of Arts 'Dinu Lipatti' at Elena Pentrenco's class. In 2014 he had his first professional recording done at "Radio Romania", where he released his first CD. He won many national and international competitions such as National Olimpiad, Nice International Piano Competition, International Piano Competition Tudor Dumitrescu, Millenium, Craiova Piano, and many others. Radu has also been invited to play in many recitals and concerts in Romania as well as abroad. He began his studies at The Purcell School of Young Musicians in 2018.
When: Tuesday 29 January, 1 pm
Where: St Martin-in-the-Fields, Trafalgar Square, London
This lunchtime concert is free and no ticket is required.