Tessa Dunlop: an Evening with Queen Marie, Romania's Soldier Queen
21/11/2018 @ Romanian Cultural Institute, 1 Belgrave Square, SW1X8PH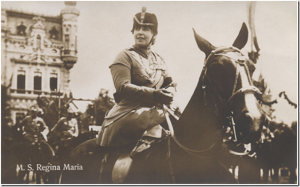 We are delighted to invite you to an evening in commemoration of Queen Marie, Romania's beloved monarch, and her extraordinary role during World War One. In her talk entitled 'The Soldier Queen, Romania and World War One', historian and journalist Tessa Dunlop will examine the British-born queen's unprecedented role as a female diplomat, politician and propagandist for her adopted country during World War One and at the subsequent Peace Conference in Paris.
A photographic exhibition depicting Queen Marie, "one of the vivid and unforgettable personalities of the war" (The New York Times) and her legacy will accompany the lecture in the Institute's Brâncuși Gallery, in the presence of its curator, Beatrice Todireanu. The event is part of the Romanian Centenary Celebration programme.
Historian Tessa Dunlop has a long association with Romania - she worked in one of its infamous orphanages just after the revolution, taught in the 'Alexandru Ioan Cuza' University of Iaşi, and has presented numerous investigative reports into Romania for BBC Radio 4 and the World Service. She speaks Romanian and has been studying the country's identity and connections with Britain for both her Masters and PhD at Sheffield Hallam University with a particular focus on Queen Marie and World War One. She is the author of two history books 'The Bletchley Girls' and Sunday Times Best Seller 'The Century Girls.' She is best known for her work on BBC2's Coast and is the historian on Channel 4's pending new genealogy show My Family Secrets Revealed.
When: Wednesday 21 November, 7pm
Where: Romanian Cultural Institute, London SW1X8PH
Free entry. Please confirm your attendance on EVENTBRITE.