All 'Dance Roads' Lead to Cardiff
07 - 08/06/2016 @ Chapter, Market Road, Canton, Cardiff, Wales, UK, CF5 1QE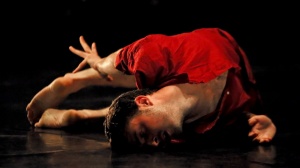 Dance Roads is a EU-funded initiative bringing together choreographers from Wales, France, the Netherlands, Italy, and Romania. Showcasing a variety of dance paradigms, the five short performances - 'Qui, Ora' by Claudia Catarzi (Italy), 'Lay(ers)' by Cristina Lilienfeld (Romania), 'Of the Earth, from where I Came' by Gwyn Emberton (UK), 'Yonder' by Jasper van Luijk (Holland) and 'Noedus' by Compagnie Adéquate/ Lucie Augeai and David Gernez (France) - promise a choreographic feast which will appeal to all audiences. The performances will take place in Cardiff at the Chapter, an ambitious cultural space that presents and produces international art, performance and film.
'Dance Roads' is a network dedicated to supporting innovative choreographers and providing them with an opportunity to emerge onto the international stage. It aims to give selected artists from each partner country a wide platform to showcase their work, and create and foster productive working relationships with artists and organisations from different countries. The network currently hosts a biennial touring festival, jointly coordinated by each partner, which supports the transnational mobility of high quality contemporary dance works from choreographers in the early career stages. The network partners each host two performances and a variety of workshops for the wider dance community, including pre and post-show talks, professional development sessions, school performances and workshops, insight and networking events.
THE PERFORMANCES:
Yonder
Choreography, lighting and music: Jasper van Luijk
Performance: Jefta Tanate
'Yonder' is a solo piece featuring dancer Jefta Tanate and a light-installation. It is a work on the inevitable relationship between man(kind) and time, which invites the audience to escape from everyday life and surrender to a timeless spatial experience.
Of the Earth, from where I Came
Choreography: Gwyn Emberton
Performance: Albert Garcia
Music: Benjamin Talbott
Light design: Ben Cowens
Set and Costumes: Gwyn Emberton
Gwyn Emberton Dance Company brings together the highest calibre of dancers, composers and designers to create bold and exciting new contemporary dance theatre. Expect intricately crafted but dynamically choreographed work which is visually rich and deeply affecting. The work draws on and responds to other art forms with the aim of exploring our emotional and physical existence in a wholly original and universal way. The solo piece 'Of the Earth, from where I Come' is inspired by Dylan Thomas' poem 'Fern Hill'. The body is part of the earth. His struggle between being human and his connection to the earth becomes a battle against the passing of time.
Lay(ers)
Coreography and performance: Cristina Lilienfeld
Sound: Brian Eno
Produced by: George Apostu Cultural Centre in Bacău and Centre Choregraphique Trois C-L
The starting point for this project was an image of the human skin and how it changes with time, how it peels off and always regenerates. Skin offers a very expressive view of life, movement, death and raises questions such as: what hidden emotions or needs are transmitted through skin? or does skin have a memory? In this performance, the relationship between movement and skin is explored as well: what kind of movement answer does tactile stimulation bring? What kind of emotional responses are generated through skin? How clearly can one communicate through touching? Lay(ers) is about vulnerability and the fight to get inside the emotional body, a continuous dialogue between sound, tactile sense and movement.
Qui, Ora
Coreography and performance: Claudia Catarzi
Music: Johnny Cash, Spartaco Cortesi
Light design: Leonardo Bucalossi
Technician: Massimiliano Calvetti
Production: Company Blu
Photography: Jacopo Jenna
This solo piece examines in a straightforward way how the body reacts to the conditions of stage situations created by space, costumes, sounds and the proximity of the audience. All of these aspects decide in the given moment - 'the here and now', 'qui, ora' - the form of gesture and rhythm, each step and movement of this intimate journey. An empty stage, a dispassionate look, are at the very essence of dance language and stage presence - this is the minimalist task with which the dancers operate. It heads away from internal and external limitations, including gravitational resistance, and finds a psychological dimension in motion, capable of powerful emotional impact.
Noedus
Choreography and performance: Lucie Augeai and David Gernez
Light design: David Gernez
Music: Marin Marais, Aphex Twin, Jordi Savall
Production: Compagnie Adéquate
Lucie Augeai and David Gernez offer the public a comical and touching piece about the perpetual research of the other gender. A man-woman duet materialises the embrace, the tension, the relationship to the other and the listening in a rich working of hands and facial expressions. On stage, two performers reveal themselves in a movement both fluid and violent, where humour and mime summon dance on Baroque music.
When: 7 & 8 June, 8pm
Where: Chapter, Market Road, Canton, Cardiff, Wales, UK, CF5 1QE
Tickets: £12 HERE