Alexandra Pirici Brings 'Leaking Territories' to London's Block Universe
22 - 28/05/2019 @ Imperial War Museum, London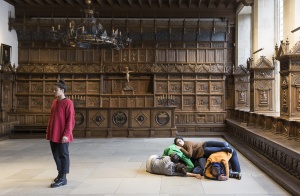 Alexandra Pirici (RO) brings the ongoing action Leaking Territories (2017) to London for the first time as part of Block Universe, London's leading international performance art festival and commissioning body. Originally made for the decennial art exhibition Skulptur Projekte Münster / Munster Sculpture Projects 2017, the work took as its point of departure the historic town hall's 'Friedensaal', where the Westphalian Peace Treaty was signed in 1684, marking the beginning of diplomatic solutions to large-scale conflicts and introducing key concepts for modern international law, such as state sovereignty. Shown now on the top floor of the Imperial War Museum, 'Leaking Territories' rethinks the very concept of territory in relation to place but also to bodies, identities and flux. It remediates existing political world events and objects with live bodies, imagines new ones – such as a human Google search engine – conjuring and linking together actions from different times and spatial realities, revealing the concept of a well delimited, well enclosed horizontal territory and stable identity as a fiction.

Alexandra Pirici, Leaking Territories, 2017
Ongoing action
Performed by: Luisa Saraiva, Susanne Griem, Boar Beniamin, Pia Wagner, Fang-Yu Shen, Rolando Matsangos.
Supported by the Romanian Cultural Institute and the Goethe Institut London.
Alexandra Pirici (b. 1982, Romania) is an artist with a background in choreography that works undisciplined, across different mediums. Her works have been exhibited within the decennial art exhibition Skulptur Projekte Münster (2017); The Romanian Pavilion at the 55th Venice Biennale (2013); Tate Modern London (2016); New Museum, New York (2018); The 9th Berlin Biennale (2016); Manifesta 10, St. Petersburg (2014); Centre Pompidou, Paris (2015); Museum Ludwig, Cologne (2016); Russian Museum, St. Petersburg (2017); Neuer Berliner Kunstverein, Berlin (2017); the Van Abbemuseum, Eindhoven (2014); Museum of Modern Art, Warsaw (2015) amongst others. Exploring both the history and the function of gestures in visual art and popular culture, Alexandra Pirici choreographs complex "ongoing actions" and "performative environments" that fuse dance, sculpture, spoken word and music. Pirici frequently deals with the history of specific places in order to playfully tackle and transform existing hierarchies.
Block Universe is London's leading international performance art festival and commissioning body that brings together cutting-edge performance art at the cross-section of contemporary visual art, dance and music. Founded in 2015 by Louise O'Kelly, the festival has summed up over 52 productions, 25 new commissions and brought 11 international premieres to London over the past 4 years with the mission to create a long-term, sustained engagement with performance art in the city. In pioneering this new platform, Block Universe aims to position London at the forefront of the dialogue surrounding performance internationally.
When: Wednesday 22 May – Tuesday 28 May 2019, 14:00 – 18:00
Where: Imperial War Museum, Roof Terrace (Level 4), Lambeth Road, London SE1 6HZ
Free entry. No booking required.