Alexandra Dăriescu, a Rising Star of Astonishing Virtuosity
03/10/2011 @ Purcell Room, Southbank Centre, Belvedere Road Londra SE1 8XX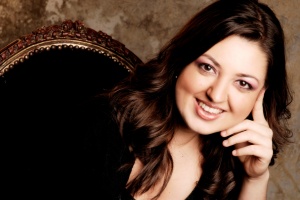 Charismatic pianist Alexandra Dariescu is back this autumn on London's musical scene. She will open her 2011/2012 musical season at Southbank Centre with a Orchestra of Saint Paul's concert. Acclaimed young Romanian artist performs Shostakovich's First Piano Concerto and the programme also includes Prokofiev's Overture on Hebrew Themes, Septet No.2 by Hanns Eisler and the complete ballet Appalachian Spring by Aaron Copland.
Able to transmit the most subtle echoes of the most complicated music, Alexandra Dariescu is already, as BBC Magazine introduced her, a rising star. Dariescu won in 2011 the Guildhall Wigmore Recital Prize and impressed the audience with her tender and vivid approach to the keyboard, as Michael Church appreciated in International Piano's edition of May/June. Born in Romania in 1985, she holds a Master Degree at the Guildhall School of Music & Drama and also a GSMD Piano Fellowship in 2010/2011. Balancing solo recitals with chamber music and concerto appearances, Alexandra's talent and interpretation inspires the composers. In October 2011 she will be premiering, together with Liverpool Mozart Orchestra, a concerto written for her by Emily Howard. Starting this year, Alexandra Dariescu has been an affiliated artist with the Romanian Cultural Institute in London.
The Orchestra of St Paul's (OSP) is a dynamic and versatile chamber orchestra resident at the famous Actors' Church in Covent Garden. In addition to a thriving concert series in its home venue, OSP makes annual visits to the Southbank Centre's Purcell Room and St John's, Smith Square. Under the baton of musical director Ben Palmer, the orchestra has developed a reputation for imaginative programming and exciting, stylish performances. OSP is unique among modern instrument chamber orchestras in playing music of the baroque, classical and even romantic periods entirely without vibrato.
When: Monday, 3 October, 7.45 pm
Where: Purcell Room, Southbank Centre
Tickets: £18, £15, £12 (limited concessions available): http://ticketing.southbankcentre.co.uk/find/music/classical/tickets/orchestra-of-st-pauls-56370