Alexandra Coman brings to Belgravia the most beloved songs of the operatic tradition
08/03/2013 @ 1 Belgrave Square, London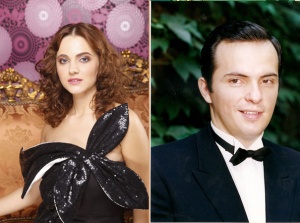 Alexandra Coman, the dazzling mezzo-soprano who appeared along opera legends like Jose Carerras and Placido Domingo, returns to 1 Belgrave Square for a rare operatic treat, which includes songs by Serrano, Bernstein and Kalman, among others.
The event is organised by the Embassy of Romania under the patronage of Mrs Daniela Jinga, with the support of Romanian Cultural Institute, and also features pianist Alexandru Petrovici.
Alexandra Coman is one of the most talented and well-known Romanian sopranos. She has attended master classes held by Luciano Pavarotti and Katia Riciarelli, has performed in prestigious concert halls both in Romania and in Europe, and has shared the stage with illustrious artists such as Jose Carerras, Placido Domingo, Alex Vicenes and Carry Persson. Alexandra has an impressive repertoire as well as a versatile use of vocal registers. Jose Carreras said about her: 'Alexandra Coman is a very talented artist with a great career before her', while Luciano Pavarotti described her as having 'a beautiful voice of interesting colour and brilliant quality'.
When: 8 March 2013, 6.30pm. The concert will be followed by a reception at 7.45pm.
Where: 1 Belgrave Square, SW1X8PH, London
Admission is free but seats are limited. Early booking is well recommended. Please reserve your seats by 1st of March at galaconcert@roemb.co.uk.