Alexandra Badea's Incisive 'The Pulverised' Premieres at Arcola Theatre
02 - 27/05/2017 @ Arcola Theatre, 24 Ashwin Street, Dalston, London, E8 3DL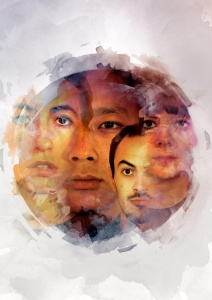 We are proud to support the extensive Arcola Theatre run of Alexandra Badea's eye-opening drama, a piercing portrait of globalisation and its multifaceted effects. Following an impressive production at the National Theatre of Strasbourg, where it won the prestigious Grand Prix de la Littérature, 'The Pulverised' arrives to the UK with a new English translation by Lucy Phelps and the imaginative staging of Romanian director Andy Sava.
A quality assurance officer from France, a call centre manager from Senegal, a factory worker from China, and an engineer from Romania. Each leads a life apart, but all work round-the-clock for the same multinational corporation.
"Stop the rat race. Stop time. Stop the money. Stop the anxiety. Stop everything that has made human beings so bitter."
The Pulverised
By Alexandra Badea
Direction: Andy Sava
Translation: Lucy Phelps
With: Rebecca Boey, Richard Corgan, Solomon Israel, Kate Miles
Set and Costume Design: Nicolai Hart-Hansen
Sound and Video Design: Ashley Ogden
Lighting Design: Tom Smith
Movement Director: Lanre Malaolu
Production Manager: Suzy Somerville
Stage Manager: Tom Gamble
PR: Chloe Nelkin
The show is performed in English and runs for 90 minutes without an interval.
Suitable 14+
A production by Arcola Theatre, Changing Face and York Theatre Royal with the support of Arts Council England, the Romanian Cultural Institute and the Institut Français.
When: 2-27 May, Monday - Saturday at 8pm. Saturday matinees at 3.30pm. No performances Sunday.
Where: Arcola Theatre, 24 Ashwin Street, Dalston, London, E8 3DL
Tickets: £12- £17 HERE
With a post show talk on Romanian Theatre by playwright Alexandra Badea, director Andy Silva and RCI's Director Dorian Branea on 6 May. Free for ticket holders and followed by a wine reception.