Alex Mirutziu: Translating, Performing
07/06/2016 @ Delfina Foundation, 29/31 Catherine Place, London SW1E 6DY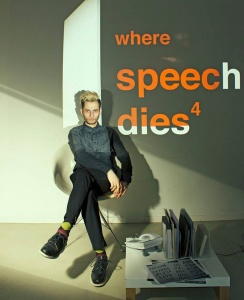 As part of a spring residency at Delfina Foundation, Romanian artist Alex Mirutziu joins fellow grantees Stephen Kwok, Luísa Nóbrega and Syowia Kyambi for an exploration of language as a source of performance. Driven by a key question - 'What performs?' - Mirutziu's performative act elevates objects to the same level with the performer, investing them with the power usually bestowed upon individuals.
"We think we design the world but instead the world designs us. How much do objects themselves influence the world and how much do we influence it? Thus, creating objects is an exercise in responsibility. We need to reconsider design more seriously, a design that generates time and vice versa." – Alex Mirutziu
Alex Mirutziu's installation based performances and writings question the ways in which space is orchestrated when things come to an end. He uses design in a clerical sense, collecting imprints of private and historical events and infusing them with a personal understanding, as the basis of his performances. Alex has been part of a collective where he himself is a hyper-object - the artist at 29 - and often operates within this structure. The collective's modus operandi is retroactive irony. In recent years, Alex has lectured in performance and theatre institutions from Royal College of Arts in London to Von Kraal Theatre, Estonia, and has collaborated with artists like Grit Hachmeister (Germany), Paul Devens (The Netherlands), Elias Merino (Estonia), Graham Foust (United States), Bjorn Friborg (Sweden). His most recent projects have been hosted by well-known cultural spaces like ZDB (Lisbon), Power Plant (Toronto), The Glass Factory Lab (Boda), Műcsarnok Kunsthalle (Budapest), National Museum (Warsaw) and the Centre for Contemporary Art (Warsaw). As part of his projects as a current grant holder at Iaspis - the Swedish Arts Grants Committee and as one of the artists to represent Romania at the upcoming Venice Biennial, Alex has lectured on his performance practice at University College of Arts, Crafts and Design in Stockholm.
The artist's residency at Delfina Foundation (4 April – 26 June 2016) is supported by the Romanian Cultural Institute, Maria Bojan, Plan B Foundation, Ovidiu Șandor, Mircea Pinte, Jenny Hall and Delfina Foundation's family of individual supporters.
When: Tuesday 7 June, 6:30 – 9:00pm
Where: Delfina Foundation, 29/31 Catherine Place, London SW1E 6DY