Ageing Buildings | Ageing Bodies: Romania at the London Festival of Architecture 2021
02 - 22/06/2021 @ online | Website, Facebook page and YouTube channel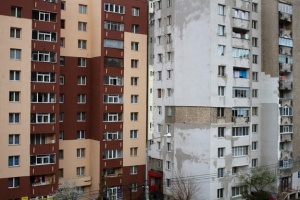 The interdisciplinary project "Ageing Buildings | Ageing Bodies", selected for London Festival of Architecture (LFA), has at its core two Romanian anthropologists, Dr Maria Șalaru (UCL) and Dr Gabriela Nicolescu (University of Oxford, School of Anthropology and Museum Ethnography) who encourage a new approach towards caring for people and buildings.
LFA is the world's largest annual architecture festival, with an amazing programme of events and activities taking place right across London every June and this present edition's theme is care. The Romanian Cultural Institute in London has been a constant partner of the Festival, by supporting the Romanian projects and protagonists.
What do we learn when we regard bodies as buildings and buildings as bodies? and What does the fragility of our own bodies teach us about the care for our built environment? are the two triggering questions of the project. The answers are to be found in three events, conceived and curated by Maria Șalaru and Gabriela Nicolescu and included in the festivals' programme.
The opening event is the screening of The Block/Blocul, a documentary directed by anthropologist Maria Șalaru (UCL), broadcasted on 2 June 2021, 19.00.
From 2 - 22 June, the two anthropologists invite residents of London and Bucharest to contribute with different objects and materials related to ageing in their own home. The objects will be photographed, sent digitally, but also by mail or deposited in person in London at the Romanian Cultural Institute and in Bucharest at the Museum of Bucharest - where they can be included in a future exhibition. Click here to watch the collection call: https://youtu.be/6KYfO3uf-NE
The last part of "Ageing buildings | Ageing bodies" is an online roundtable moderated by Hannah Knox (UCL Anthropology) with Iulia Stătică (The Bartlett School of Anthropology, UCL), Daniela Calciu (Ion Mincu University of Architecture and Urban Planning Bucharest), Gabriela Nicolescu (University of Oxford) and Maria Șalaru (UCL). The discussion, broadcasted on 22 June 2021, at 20.00, will tackle parallels between blocks of flats in Romania and the UK and the outcome of the curatorial practice.
Maria Șalaru is a Lecturer in Material Culture at UCL. Her research is situated at the intersection between anthropology and architecture. At University College London, Maria lectures in the Department of Anthropology, where she specialises in the anthropology of architecture. She has conducted ethnographic research inside a block of flats in Northern Romania, studying how inhabitants are involved in the care and refurbishment of their building, when the state has retreated from those responsibilities. Maria filmed and directed The Block, an award-winning observational documentary about the inhabitants of this building.
Gabriela Nicolescu is a visual anthropologist and curator with research interests in ageing and care, migration, museum anthropology and exhibition making. She gained her PhD in Visual Anthropology at Goldsmiths, University of London, and then worked on several projects as a curator and postdoctoral researcher at Goldsmiths and University College Cork (Ireland). She curated exhibitions in Austria, Hong Kong, Hungary, Republic of Moldova, Romania, United Kingdom and the Philippines and published in several journals, including the Journal of Design History, Journal of Material Culture, World Art and Anthropology and Aging.
"Ageing Buildings | Ageing Bodies" project is organised by the Romanian Cultural Institute in London, in partnership with the University of Oxford, University College London - UCL and the Museum of Bucharest, with the kind support of the London Festival of Architecture.
All events will be in English and will be broadcasted on RCI London's Facebook page, YouTube channel and website.
You do not need a Facebook account to watch - FB is simply a platform.