After the New Man: Photographic Exhibition by Dana Popa
26/04 - 26/05/2012 @ Foto8, 1-5 Honduras Street, London EC1Y 0TH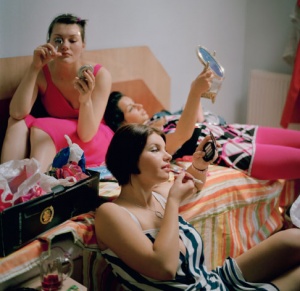 Opening: Thursday 26 April 6.30pm
Fascinated with her homeland, photographer Dana Popa returns to Romania and looks at the generation born here just before or after the fall of the Communist regime. After the New Man is an intimate portrayal of a society that is slowly healing, of youth and fleeting memories of a bygone era that still permeates the selves and the landscapes. The exhibition is organised in association with Foto8 Gallery.
Traces of Popa's own childhood pervade not only through the blocks of flats and through the cars from another era, but in the mindsets of old and young. This legacy of the recent past and the ubiquitous Western-inspired ideals of lifestyle and consumerism construct a portrait of a displaced generation, struggling to reconcile their place in history.
The exhibition brings together Popa's own socially engaged work with her old family photographs and remnants from the past.
Dana Popa (b. 1977) studied a Masters degree in Documentary Photography at the London College of Communication. Her work focuses on contemporary social issues with a particular emphasis on human rights. 'Not Natasha' was Popa's first major body of work, which looked at the effects of sex trafficking on girls and families in The Republic of Moldova who had firsthand experience of it. The project has been exhibited around the UK, Europe and US and was published as a book (Autograph ABP, 2009). Popa is based in London.
Related Events
Film Screening: Sundays on Leave (E Pericoloso Sporgersi), Tuesday 15 May, 7:00 pm
Nae Caranfil's debut feature film offers an ironic, witty and realistic image of Romania during the last years of Communism. The film is an intriguing and humorous story of three Romanians whose lives are revealed to be strongly intertwined as the film progresses. Caranfil's talent for recognizing humour and humanity in the extremely grim circumstances of those years - which is so prominent in his later works (Asfalt Tango and Filantropica) - is evident here as well.

Nae Caranfil (born 1960, Bucharest) is a film director and screenwriter. After a row of shorts shot in the eighties, Caranfil made his feature film debut with Sundays on leave / E Pericoloso Sporgersi (1993) and continued with road movie comedy Asfalt Tango (1996) followed by Dolce Far Niente (1998) and The Rest is Silence (2007).

Romania | 1993 | 104 min | dir: Nae Caranfil | cast: Nathalie Bonnifay, Costel Cascaval, George Alexandru, Marius Stanescu, Coca Bloos, Marius Florea
In Romanian with English subtitles.
Entry: £8. Pre-booking essential: www.foto8.com
The exhibition continues until 26 May 2012. Opening hours: Mon - Fri 10am - 6pm; Sat 11am - 4pm.