Adriana Cristea and Greta Gasser at St Martin-in-the-Fields
22/02/2016 @ St Martin-in-the-Fields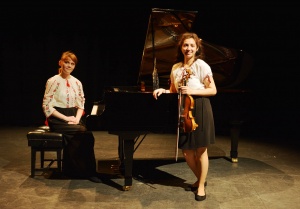 The Romanian Series at the popular St Martin-in-the-Fields in Trafalgar Square continues with a concert offered by violinist Adriana Cristea and pianist Greta Gasser, two rising musicians of the new generation. The promising performers will delight the audience with a programme that includes works by Sergei Rachmaninov, Nikolai Kapustin, Johann Sebastian Bach, Antonio Bazzini, as well as Romanians Paul Constantinescu and Ciprian Porumbescu.
Born in Romania in a family of musicians, Adriana Cristea started playing the violin at age of five and one year later had her first recital. In 2015 she completed her Masters Degree with Distinction at the Royal Northern College of Music in Manchester. Adriana won 25 national and international prizes at varied competitions. As a soloist with orchestras, she has performed with ensembles like Burnley Symphony Orchestra, RNCM Strings Orchestra, Sinfonia Bucharest Orchestra, Beirut Chamber Orchestra, Nae Leonard Orchestra as well as Lyceum Strings Youth Orchestra.
Greta Gasser started learning the piano at the age of seven. Since then, she has given recitals in Bucharest, Constanța, Tulcea, and Manchester. She was a prize winner at the 'George Georgescu International Music Performance Competition' (Tulcea, 2003-2011), the 'W. A. Mozart International Music Competition' (Târgoviște, 2008), and The National Olympiad of Music Performance (2003-2010). She is currently a BMus student at the Royal Northern College of Music (RNCM), Manchester, studying piano performance with Frank Wibaut.
When: Monday, 22 February, 1pm
Where: St Martin-in-the-Fields, Trafalgar Square, London
This lunchtime concert is free and no ticket is required.