Acclaimed Virtuosos Remus Azoiței and Eduard Stan in the 'Enescu Concerts' Series
06/10/2016 @ Romanian Cultural Institute, 1 Belgrave Square, London SW1X 8PH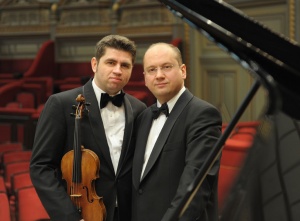 The Romanian Cultural Institute resumes its most popular 'Enescu Concerts' Series with a spectacular recital offered by violinist Remus Azoiţei and pianist Eduard Stan, the supreme experts in George Enescu's chamber work. With a programme that highlights the manifold connections between Romanian and French classical music, the duo's hypnotic presence will prove once more why they are considered to have established the golden standard of Enescu's interpretation.
Programme:
Ciprian Porumbescu: Ballade
George Enescu: 'Impressions d'enfance' Suite, Op. 28
Gabriel Fauré: Sonata in A Major
Maurice Ravel: 'Tzigane' Rhapsody
Described in The Strad as "an uninhibited virtuoso, with soul and fabulous technique", renowned violinist Remus Azoiţei has been a featured soloist of prestigious European ensembles, including the Orchestre Philharmonique de Radio France, Orchestre National de Belgique and Deutsche Kammer Orchester. He is a violin professor at the Royal Academy of Music in London and the Artistic Director of the Enescu Society in Great Britain.
Hailed by the Frankfurter Allgemeine Zeitung for his "eminent sense of tonal timbres and colours", pianist Eduard Stan has received international acclaim throughout the world. He has performed at Carnegie Hall in New York, Konzerthaus and Philharmonie in Berlin, Concertgebouw Amsterdam and many other prestigious venues.
Together, Azoiței and Stan recorded the complete works for violin and piano by Enescu, an authoritative world premiere project. Released by Hänssler Classic in 2007/08, this collection is part of a series of critically acclaimed solo CDs recorded by the pianist for the same label, with a repertoire ranging from Bach to Debussy.
In the press: CEEL, 11 October 2016 (5 star review)
When: Thursday, 6 October 2016 from 19:00 to 21:00
Where: Romanian Cultural Institute - 1 Belgrave Square London SW1X 8PH
Entrance is free but it is required to book your ticket on Eventbrite.
Please note that the seating is unreserved.