Acclaimed Pianist Daniel Ciobanu, Back in London
25/10/2018 @ St John's Smith Square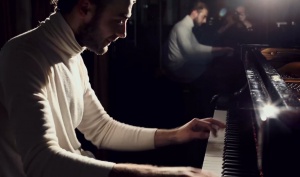 Join us for yet another performance on London's classical scene by Romanian rising-star pianist Daniel Ciobanu, 2nd Prize winner and audience favourite in the Arthur Rubinstein International Piano Master Competition 2017! After a most successful evening at the Romanian Cultural Institute within the Enescu Concerts Series, the "devilish" and "unforgettable" musician returns with an exciting programme in one of London's musical landmarks, St John's Smith Square. Don't miss the chance to hear his music, "a cocktail of serious classical music combined with the lollipops and fireworks of the piano repertoire"!
Programme:
Enescu: Carillon nocturne
Mussorgsky: Pictures at an Exhibition
Prokofiev: Sonata No. 2 Op. 14 in D minor
Scriabin: 3 Preludes Op. 11 No. 9, 10, 11
Stravinsky transc. Agosti: The Firebird Suite
Daniel Ciobanu started playing the piano at the age of nine after his grandfather – an organist – transmitted him the "keyboard virus". Lessons with various teachers followed before Daniel won a scholarship to undertake a year of study at Stewart's Melville College in Edinburgh, later being drawn to Scotland's national conservatoire. A Bachelor of Music degree was followed by a Master's, during which time Daniel studied under Head of Keyboard and Collaborative Piano, Aaron Shorr. He continued his studies at École Normale de Musique de Paris, until 2017 and is now enrolled at the Berlin University of the Arts. The Arthur Rubinstein Competition success was only the latest musical triumph for this brilliant pianist who also won the 1st Prize at "The Bromsgrove International Musicians' Competition" in Rio de Janeiro (2014), the 1st Prize and Special Prize for best "Classical Sonata" at the "UNISA International Piano Competition" in Pretoria (2016). In 2011, he was selected by Lang Lang to perform along with him in his famous '100 Pianos' show at the Royal Festival Hall in London, which gave Daniel the opportunity to play Silvestri's "Baccanale" for an audience of 3000. The pianist performed with many Orchestras including the Israeli Camerata and Israel Philharmonic Orchestra in Tel-Aviv, Cergy Pontoise Orchestra Paris, Chapelle Musicale de Tournai in Belgium , Royal Conservatoire of Scotland Symphony Orchestra, Orchestra Philarmonique du Maroc, the Royal Scottish National Orchestra, Symphony Orchestra of Pretoria, Orquestra Sinfonica do Brazil and the KZN Philharmonic Orchestra.
Thursday 25 October, St John's Smith Square, 7.30pm
St John's Smith Square, London, SW1P 3HA
Tickets: £10 - £25 | (0)20 7222 1061 | www.sjss.org.uk | Book online