Documents of Youth: Teenage Drama 'The World Is Mine' at the Romanian Cinematheque
26/04/2017 @ Romanian Cultural Institute London, 1 Belgrave Square, SW1X 8PH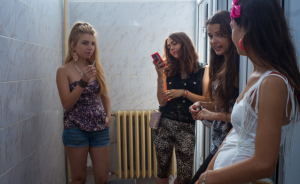 We are excited to host, at our Cinematheque, one of the most praised debuts of the last years, Nicolae Constantin Tănase's disturbing, pessimistic 'The World is Mine'. The intensity of the performances, the documentary-like realism and the relevance of the topic make it one of the most poignant films about growing up in the turbulent peripheries of Romanian big cities in recent times.
The film had its UK premiere in 2016 at the East End Film Festival, with support from RCI London.
'The World Is Mine' is a coming of age drama focussing on the story of Larisa (Ana Maria Guran), a regular teenager from Constanța, Romania. Larisa wants a lot from life: money, power, influence, popularity, and respect. Now that she is in love, she will do anything for that.
"A teen girl with a crush on the local stud finds misplaced confidence through this uneven liaison in 'The World Is Mine', a millennial-generation drama that announces an assertive new voice in debuting helmer Nicolae Constantin Tanase." - Variety
"An intense, female-driven debut feature (directed by a man)." - Hollywood Reporter
Screenplay: Raluca Mănescu
DoP: Daniel Kosuth
Music: Vlaicu Golcea
Producer: Tudor Giurgiu, Radu Stancu
Cast: Ana Maria Guran, Iulia Ciochină, Oana Rusu, Ana Vătămanu, Florin Hritcu
In Romanian with English subtitles.
Nicolae Constantin Tănase (b. 1985) comes from an artistic family and his passion for storytelling became apparent at an early age. He graduated from FAMU International, subsequently continuing film directing studies at the National University of Theatre and Film in Bucharest. His graduation short, 'Outrageously Disco' (2009), earned him several awards. He also directed the shorts 'Zombie Infectors 3' (2008), 'Next' (2008), '12 minute' (2013) and the multi-awarded 'BLU' (2012). 'The World Is Mine' is his debut feature which premiered at the Karlovy Vary International Film Festival.
When: 26 April 2017, 7pm
Where: Romanian Cultural Institute London, 1 Belgrave Square, SW1X 8PH
Free entry. Please book your seat here.