A Tribute to 'Honest Music': Outstanding Pianist Florian Mitrea in the Enescu Concert Series
04/03/2021 @ online | Website, Facebook page and YouTube channel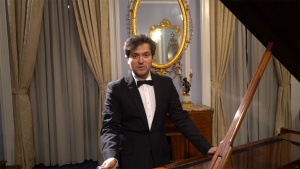 Dazzling pianist Florian Mitrea, winner of the Enescu Society Scholarship 2010-2011, will perform an extraordinary recital with a profound affinity with the folk heritage, as part of the Enescu Concert Series. The programme, in Florian Mitrea's words, is a tribute to "honest music, inspired by Romanian folklore", with works by George Enescu, Radu Paladi, Sigismund Toduță and Paul Constantinescu, complemented by a masterfully played Chopin, quoting an old Polish Christmas carol.
Programme:
F. Chopin – Scherzo in B minor op. 20 no. 1
R. Paladi – Rondo a capriccio
S. Toduță – Passacaglia
S. Toduță – Suite of Romanian Songs and Dances;
P. Constantinescu – Variations on a Romanian Folksong / Cântec (Temă cu variațiuni) & Dobrogean Dance / Joc Dobrogean
G. Enescu – Bourrée from Suite Op. 10 No. 2
Described by Martha Argerich as 'an outstanding young pianist', British-Romanian pianist Florian Mitrea was a double-laureate at the 2017 Scottish, 2015 Hamamatsu, and 2014 ARD Munich International Piano Competitions. He won the 2018 Royal Overseas League Piano Competition and his remarkable success also includes a prize at the 2018 Harbin – China, 2017 St Priest, and 2016 James Mottram-Manchester International Piano Competitions. He was the top prize winner at the 2018 New York International Piano Festival, and consequently gave his debut performance at Carnegie Hall, one of his most cherished memory, as he recalls. He was a Making Music 2017-19 Young Artist, a Kirckman Concert Society artist and was selected to perform in the historic Manchester Mid-Day Concerts series. In 2020, Florian gave his debut solo recital at the Bozar Centre in Brussels, and his first tour as soloist with the Royal Scottish National Orchestra. Previously, Florian performed as a soloist with the Philharmonia in London, Elbland Philharmonie in Dresden, Collegium Musicum in Basel, the Romanian National Radio Symphony Orchestra and the George Enescu Philharmonic. Since 2018, he is also an Associate of the Royal Academy of Music.
His second solo recording project, a CD of music by Beethoven and his contemporaries, is due to be recorded in 2021.
When: Thursday 4 March 2021, 19.00
Where: RCI London's Facebook page and YouTube channel
The concert has been recorded on 25 February 2021, at the Romanian Cultural Institute in 1 Belgrave Square.