A Scrutiny of Longing. 'A Month in Thailand' at the Romanian Cinematheque
20/02/2014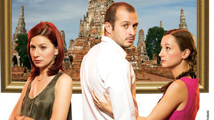 The Romanian Cinemateque presents Paul Negoescu's 'A Month in Thailand' (2012), a perceptive review of the concealed longings and muted desires of young middle class Romanians, torn apart by the dilemma of settling in a conventional existence or breaking free from the prospect of a banal, predictable life. The film is Negoescu's debut feature, made after a string of acclaimed shorts that established the young director and Film professor as one of the genre's most accomplished habitués.
"A twenty-something generation that doesn't know what it wants is laid bare with droll accuracy but also a dose of sympathy in this slow-burning romantic dramedy by young Romanian director Paul Negoescu. Following on in the new-wave Romanian tradition of stories that pan out in less than 24 hours, A Month In Thailand charts the indecisions of a young man on New Year's Eve as he dithers between his current girlfriend and the one he ditched months before." – Lee Marshall, Screen Daily
Paul Negoescu holds a degree in film directing from the National University of Theatre and Film in Bucharest, Romania, later becoming a member of the academic staff within the same institution. He directed several short films that have been awarded at a number of important international film festivals (including festivals in Cannes, Berlin, Sarajevo, Karlovy Vary and Rotterdam). He has been nominated for the European Film Academy award in 2009 and 2011. His first feature, 'A Month in Thailand', premiered in the International Critics' Week program of the Venice Film Festival. The film received several awards, including FIPRESCI Award at the International Film Festival in Sofia. Negoescu founded his own company for production of short, documentary and animated films. He is also the founder of Timishort Film Festival in Timisoara, Romania.
'A Month in Thailand'
Romania | 2012 | 90 min | directed by Paul Negoescu | with: Andrei Mateiu, Ioana Anastasia Anton, Sînziana Nicola, Tudor Istodor
UK premiere
In Romanian with English subtitles
The Romanian Cinematheque is a project in partnership with the National Centre for Cinematography in Romania (CNC).
When: Thursday, 20 February, 7pm
Where: Romanian Cultural Institute, 1 Belgrave Square, London SW1X8PH
Admission is free but seats are limited. Please confirm your attendance at T: 020 7752 0134, E: office@icr-london.co.uk
The seats are allocated on a first come, first served basis.