A Romantic Evening of Rachmaninoff with Pianist Diana Ichim
16/12/2020 @ Online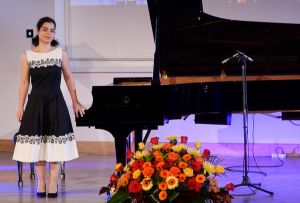 Join us for a romantic evening of Sergei Rachmaninoff with special guest pianist Diana Ichim. The concert marks our collaboration with the University of Transilvania in Brașov, where it was recorded on 1 October 2020, and will be streamed online on Wednesday 16 December 2020 at 19:00.
Originally scheduled to take place at St James's Piccadilly in May, the event will now be online and will be available for anyone to watch.
Programme:
Sergei Rachmaninoff - Corelli Variations Op.42
- 10 preludes from Op.3, Op.23 and Op.32 (selections)
- Elegy Op.3 No.1

Diana Ichim is a third-year student at the University of Transilvania in Brasov. Over the years, under the guidance of Prof. Stela Drăgulin, she has participated in numerous competitions, the most recent being Art Summer Brașov, where she won the Award for Excellence in Performance and the Jury Prize for Best Performance. She has given numerous recitals, making her debut on the stage of the Multicultural Center of the University of Transilvania in Brașov. In 2018, she made her debut with the Orchestra of Brașov performing the piano concerto by Edvard Grieg in A minor. As a chamber musician, she performs with mezzo-soprano Eva Noemi Karacsony, with whom she toured Romania, Bulgaria, China and Mongolia, and is also the pianist of her university's chamber orchestra.
When: Wednesday 16 December 2020, 19:00
Where: online (prerecorded) on RCI London's Facebook page and YouTube channel