A Romanian Spin at Kinetica Art Fair
16 - 19/10/2014 @ The Old Truman Brewery, London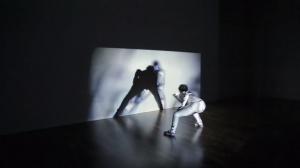 A multinational creative ensemble led by Romanian-Bulgarian visual artist Mihaela Kavdanska is featuring in London's Kinetica Art Fair, a showcase of artworks marrying pure imagination and technology prowess. The project, entitled 4th Skin, is presented with the support of RCI and consists of a spectacular inter-media dance performance which comments on the subjects of ephemerality, self-exploration, illusion of control and manipulation.
The show makes use of extensive technological support. Video content, captured real-time with a wireless camera is projected back on the performer's body, creating a layer of multimedia "skin", making visible what we see, touch or reflect.
Concept, artistic director, interactivity, real-time video, performer, producer: Mihaela Kavdanska (RO/BG/AT)
Choreographer, real-time video & main performer: Dolma Jover Agullo (ES/ AT)
Programming of the interactive platform for video mapping on moving bodies: Cristian Iordache (RO)/ KOTKI visuals (RO/AT)
Live Sound: Sorin Paun aka Randomform (RO)
Camera & editing of the video documentation: Cristian Villavicencio (ES)
Co-producers: KOTKI visuals (RO/AT)
Interface Culture Lab, Linz (AT)

Mihaela Kavdanska, Sorin Paun and Cristian Iordache will be present.
Kinetica Art Fair presents some of the most ground-braking & innovative art from around the globe, and is set to be one of the most dynamic events taking place over London Art Week. 15,000 visitors from all corners of the globe are expected to attend at the fair this year.
Now in its sixth year, Kinetica Art Fair takes place at a new venue: the Truman Brewery in East London, ideally placed for collectors, curators, architects, industry leaders and the public to view and purchase artworks in the thriving field of kinetic, electronic and new media art.
"A great example of art moving with the times".
The Times
"The Kinetica Art Fair is comparable to the great international exhibitions of the Victorian era which combined new arts, science and technology".
The Daily Telegraph
When: 16-19 October 2014
Where: The Old Truman Brewery, Ely's Yard entrance, 15 Hanbury St, London E1 6QR
Tickets.
"4th Skin", real-time intermedia dance performance, 15'/ TRAILER 2014 from KOTKI visuals on Vimeo.