A Romanian Silent Classic at the Barbican
25/03/2012 @ Barbican Centre Silk Street London EC2Y 8DS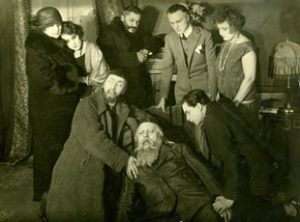 A silent love story meets reinterpreted retro music at the famous Barbican Cinema. The silent Romanian masterpiece Manasse comes to London in a delightful event, with live musical accompaniment by the spellbinding and refined Minima, as a result of the ongoing partnership between the Romanian Cultural Institute in London and the Barbican.
The project was previously presented in April 2011, part of the East End Film Festival.
Manasse (directed by Jean Mihail, 1925, 54') presents the drama unfolding between a Romanian man and a Jewish woman, highlighting the religious intolerance in Fălticeni, a small town in Eastern Romania. Based on the play by Moise Ronetti-Roman, Manasse is a highly dramatic take on the problems inherent in Romanian society at that time. Mihail was one of Romania's most important early directors, exploring the most sensitive issues with sincerity, visual panache and unflinching dramatic power.
Minima's music is an audacious 21st century interpretation of the images of silent and avant-garde cinema. Their repertoire includes silent feature films: surrealism, horror and science fiction, as well as animations and improvised performances. Founded in 2006, Minima have since performed in a variety of cinemas and art centres, music festivals and unusual venues such as churches and railway arches, not forgetting Spitalfields market for the 2009, 2010 & 2011 East End Film Festival screenings of Nosferatu or The Lodger.
Part of Silent Film & Live Music Series.

With thanks to the National Film Archive, Bucharest.

The tickets can be purchased on the Barbican website: http://www.barbican.org.uk/
Standard - £9.50 online (£10.50 full price). Barbican Members - £7.50 online (£8.50 full price) / Concessions £8.50
When: Sun 25 March 2012, 4pm
Where: Barbican Centre, Silk Street, London EC2Y 8DS, Cinema 1