A Romanian Poetic Trio for Ledbury Festival
01/07/2017 @ Burgage Hall, Church Lane, Ledbury, Herefordshire HR8 1DW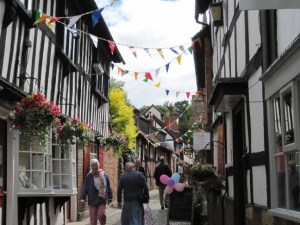 As the summer kicks in, three of Romania's most exciting women poets – Ana Blandiana, Magda Cârneci and Svetlana Cârstean – join translator Viorica Pâtea for a special event curated by British author Fiona Sampson MBE at the prestigious Ledbury Poetry Festival, the biggest of its kind in the UK.
Speaking about the Romanian event, Fiona Sampson, poet-in-residence at this year's Ledbury Poetry Festival, notes: "There's a group of Romanian women poets at the festival because there's such a concentration of excellence there and because they are terrific, bold role-models for our still rather over-policed British women poets. Poetry opens a door on the world. Right now, Romania's women poets are among the best writing anywhere. I love their work, which is extravagant, surreal, sexy and often socio-political too. They encourage us to take risks, and to feel beholden to nobody."
Ana Blandiana is one of Romania's foremost poets and also a former dissident and political activist who acquired an almost legendary stature in Romanian contemporary culture. Before and after the fall of Communism in Romania, she has published an impressive number of books of poetry, fiction, essays and memoirs, which have been translated into more than 20 languages. Ana Blandiana was co-founder and President of the Civic Alliance from 1990, an independent non-political organisation that fought for freedom and democratic change. She also re-founded and became President of the Romanian PEN Club, and in 1993, under the aegis of the European Community, she created the Memorial for the Victims of Communism in Sighetul Marmației. In recognition of her contribution to European culture and her valiant fight for human rights, Blandiana was awarded the highest distinction of the French Republic, the Légion d'Honneur, in 2009. She has won numerous international literary awards including The Herder Prize in 1982, The Acerbi Special Prize in 2005 and The European Poet of Freedom Prize (2016).
Magda Cârneci is a Romanian writer and art historian. Member of the famous "'80s generation", she was one of the theoreticians of postmodernism in the local cultural milieu. After the Revolution of December 1989, she became involved in the political and cultural Romanian scene. In 1997, she took her Ph.D. in art history at the Ecole des Hautes Etudes en Sciences Sociales in Paris. Starting with the 2000s she moved to Paris, where she was invited lecturer at the INALCO University in Paris. Between 2006 and 2010 she was the director of the Romanian Cultural Institute in Paris. At present, she is president of the Romanian PEN Club. She published many books of poetry and essays on modern and contemporary art. Some of her books were translated into English, French, Italian, and Dutch. Her poems were translated in many languages and appeared in numerous international anthologies and literary magazines.
Svetlana Cârstean is a poet and a journalist. She studied Romanian and French literature at the University of Bucharest. As a student, she founded and coordinated the "Central" literary circle, along with Răzvan Rădulescu, T. O. Bobe and Cezar Paul-Bădescu, and later she joined the famous "Litere" literary circle at the Faculty of Letters of the University of Bucharest, whose director was poet Mircea Cărtărescu, one of Romania's greatest writers. Her volume "The Vise-Flower" (Floarea de menghină) was published in 2008 to wide acclaim from Romanian critics; the book was awarded four major literary prizes, among which the Romanian Writers' Union Prize for debut. Highly emotional and playful, her poems have brought her much attention at home and abroad as well as prizes and fellowships. Svetlana Cârstean has worked as a freelance journalist for press and television and has edited various magazines and anthologies. She lives and works in Bucharest, where she also teaches French.
Viorica Pâtea is Associate Professor of English and American Literature at the University of Salamanca. She has published critical studies of Sylvia Plath (1989), Walt Witman (1999) and T.S. Eliot's The Waste Land (2005), as well as comparative studies in witness literature of East European countries. She has edited, translated into Spanish and analysed the work of Nicolae Steinhardt (2007) and Ana Blandiana (2008, 2011). She has edited various collections of essays, including Modernism Revisited: Transgressing Boundaries and Strategies of Renewal in American Poetry (Rodopi, 2007), together with Paul Scott Derrick. Her most recent publication is Short Story Theories: A Twenty-First-Century Perspective (Rodopi 2012), which received the Javier Coy Research Award for the best edited book (2013) from the Spanish Association of American Studies. She is also co-translator, with Paul Scott Derrick, of Ana Blandiana's My Native Land A4 into English (Bloodaxe Books, 2014).
Fiona Sampson MBE has been published in more than thirty languages. She has thirteen books in translation, and is the winner of numerous prizes including the Zlaten Prsten (Macedonia) and the Charles Angoff Award (US), the Newdigate Prize and the Cholmondeley Award. She has been shortlisted twice for both the T.S. Eliot Prize and Forward Prizes, and once for the Evelyn Encelot Prize for European Women Poets. From 2005-2012 Fiona was the Editor in Chief of Poetry Review; she is now the Professor of Poetry at the University of Roehampton, where she is the Director of the Roehampton Poetry Centre and Editor of magazine Poem. A Fellow and Council Member of the Royal Society of Literature, Fellow of the Royal Society of Arts, Fellow of the English Association and Trustee of the Wordsworth Trust, her publications include twenty-seven volumes of poetry, criticism and philosophy of language. She writes frequently for the national press and frequently presents on BBC national radio, and has collaborated with leading musicians, scientists and artists.
When: Saturday 1 July, 6pm. Tickets: £9.
Where: Burgage Hall, Church Lane, Ledbury, Herefordshire HR8 1DW