A Regale of Youth and Musical Excellence
05/04/2012 @ ICR London, 1 Belgrave Square, Londra, SW1X8PH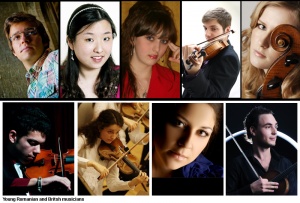 In April, youth reigns at Enescu Concerts Series. Join us in a celebration of virtuosity and dedication as outstanding young Romanian and British musicians team up for a memorable evening. In the programme: Enescu, Schumann and Bach. Protagonists: Jinah Shim – piano (Winner of the 2011-2012 Enescu Scholarship); Konrad Elias-Trostmann – violin (Winner of the 2011-2012 Enescu Scholarship); Bogdan Costache – violin; Mina-Maria Beldimănescu – pinao; Francesco Ionaşcu – violin; Ioana Forna – violin; Mihai Cocea – viola, Alexandra Văduva – piano.
Programme:
Bach: Piano Suite No.2 in C minor, BWV 813
Butler: Lucifer's Banjo for piano
Enescu: Sonata for piano and violin No.2 in F minor, Op.6 ; Impromptu concertant for violin and piano
Schumann: Piano Quintet in E-flat Major, Op.44
As a student of the Guildhall School of Music and Drama, piano player Jinah Shim already displayed a mature musical intelligence and a reliable technique, winning qualities in her bid for the 2011/12 Enescu Scholarship. Although very young, Jinah has an impressive resume and has won numerous competitions in both individual and team projects. She thinks that "one must produce polished, flamboyant performances to be considered great musician". Perfection is not everything; as Enescu once said, "it is important in art to vibrate oneself and to make others vibrate".
Born in London, in 1989, Konrad Elias-Trostmann is a very talented and expressive violin player, with an excellent technique and a strong sense of creativity. Having won several awards at various national and international festivals, Konrad has turned his attention to Enescu's work, stating that his music "speaks with much sensitivity and is greatly moving". As an Enescu Scholarship winner, Konrad will be involved in promoting Enescu's cultural heritage across UK
Born in 1992 in Craiova – Romania, violinist Bogdan Costache grew up in a musical atmosphere thanks to his father, himself a violinist and the leader of the Brasov Opera Orchestra. A protégée of the famous opera singer Mariana Nicolescu, he moved to Bucharest, to continue his violin studies with Florin Croitoru, Octavian Ratiu and Valeriu Rogacev. Bogdan is the receipient of numerous prizes in national and international contests, including 1st Prize at the ''Monterosa Kaway'' Competition in Italy and the Grand Prize at the "Remember Enescu" contest, held in Romania.
Born in Bucharest in 1990, pianist Mina Beldimanescu is currently a student of Diana Ketler at the Royal Academy of Music in London; previously, she studied with Carmen Enescu at the "Dinu Lipatti" Music High School. In 2009, she was awarded 1st Prize in the National Music Competition organized by the Romanian Ministry of Education. Over the years, she has attended the masterclasses of renowned pianists, including Pavel Gililov, Olivier Gardon, Tomislav Baynov and Nikita Juzhanin.
A finalist of the prestigious "Eurovision Young Musicians" International Competition in 2006, violinist Francesco Ionascu was born in Venice in 1991 and raised in Romania. At the age of 6 he started taking violin lessons, and since then he has given more than 60 concerts as a soloist in Germany, Italy, France or Romania. Francesco is a winner of various international violin competitions, including the 1st Prize as well as the "Ion Voicu" Prize at the 2003 "Remember Enescu" contest. He also won the 2nd Prize in the "Jeunesses Musicales" International Competition in 2005, being the only Romanian to be awarded a prize.
Ioana Forna began playing the violin at the age of 7 at the "Sigismund Toduta" Music High School in her hometown of Cluj-Napoca. She studied with Professor Adrian Cardan, she graduated in 2010, and during this time she participated as a soloist at the National Romanian Music Competition, being a laureate for 8 years. She also performed in the Sonoro Festival as a chamber musician and participated in masterclasses with Nicusor Silaghi, Gabriel Croitoru, Karel Boeschoten, Mincho Minchev and Alexander Sitkovetsky.
A Third Prize Winner of the "Watson Forbes" International Viola Competition, violist Mihai Cocea is a student of Paul Silverthorne at the Royal Academy of Music in London. Born in 1990 in Bucharest, Mihai graduated from the "George Enescu" High School as a student of Dumitru Ene, and has since been a winner of national and international awards. Mihai has participated in various masterclasses, with Yuri Bashmet, Yuval Gotlibovich, Bruno Giuranna, Lawrence Power, and Jerzy Kosmala.
First-prize winner in 2011 of the prestigious Vienna International Piano Competition, pianist Alexandra Vaduva is a student of Diana Ketler at the Royal Academy of Music. Born in 1991, Alexandra started her musical education in Romania with Doina Olteteanu and has since won various awards including at the "Beethoven" and "Eastbourne Young Soloist" Competitions, both held in the UK. Recently, she performed for important pianists and teachers, such as Stephen Hough, Pascal Devoyon, Jerome Rose, John O'Conor and Joanna MacGregor.
Lauren Steel grew up in the Outer Hebrides and began playing the cello at the age of eight, later studying at Aberdeen City Music School. During this time she performed widely around Aberdeen and on two occasions in the presence of Her Majesty the Queen. At the age of 16 Lauren was awarded a scholarship to study at the Royal Academy of Music, where she now studies as a postgraduate student with Felix Schmidt. Lauren is a member of the Jubilee String Quartet, recent winners of the Val Tidone International Chamber Music Competition. Lauren plays on a Betts (English) cello, kindly on loan to her by the Royal Academy of Music.
The Enescu Concerts Series, jointly organized by the Romanian Cultural Institute in London and the Enescu Society, was established in 2007 under the Royal Patronage of HRH Princess Margareta of Romania. The concerts take place in the Institute's chamber music hall every first Thursday of each month, from October to June (July). The series has attracted a wide array of outstanding musicians and ensembles, who have managed to give some of the most memorable Enescu performances ever.
Every year since September 2011, the Romanian Cultural Institute awards the Enescu Scholarship to outstanding students of the Royal Academy of Music and Guildhall School of Music and Drama.
When: 5 April 2012, 7pm;
Where: Romanian Cultural Institute, London.
Admission is free but seats are limited. Early booking is well recommended.
Please reserve your seats at T: 020 7752 0134, E: office@icr-london.co.uk.
Latecomers will be able to go to their seats in the interval.