A Night of Passion and Romance with Velvety-voiced Oana Cătălina Chițu
06/06/2014 @ Kings Place, 90 York Way, London, N1 9AG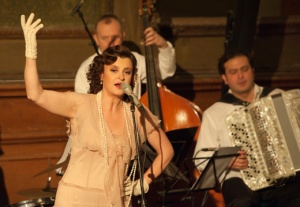 One of the Songlines Magazine top rated albums of 2013 was Romanian singer Oana Cătălina Chiţu's 'Divine. Romanian songs from the repertoire of Maria Tănase', a touching musical homage to legendary Maria Tănase (1913-1963), also known as "the Romanian Edith Piaf". With her rich, smoky voice and dramatic presence, Oana Cătălina Chiţu makes her Kings Place debut bringing Maria Tănase's repertoire back to life together with a fabulous virtuoso band: Dejan Jovanovic – accordion, Vladimir Karparov – saxophone, Valeriu Caşcaval – cymbalon and Dimitris Christides – drums. The Romanian singer and her band will recreate the voluptuous air of the Paris of the East - Bucharest in the 1930's.
The Romanian Cultural Institute in London supports Oana Cătălina Chiţu's participation at the Songlines Encounters Festival, which takes place at Kings Place between 5 and 7 June 2014.
See the full Songlines Encounters Festival programme
Oana Cătălina Chiţu grew up in Northern Romania, in Humuleşti, an idyllic old market town also known as the birthplace of well-known author Ion Creangă. After 1989 she moved to Berlin where she founded the Balkan band Romença with Serbian accordion player Dejan Jovanovic, but her yearning for Romanian songs and her love of the artist Maria Tănase never disappeared. On the other hand, the passion for the elegant Romanian tangos has never left her and, when the Romanian writer Mircea Catarescu wrote an article about the beautiful Gypsy girl called Zaraza, triggering off speculation about the dramatic jealous scenes between the singer Zavaidoc and his rival Cristian Vasile, this finally urged Oana Cătălina Chiţu to give all of those old tango melodies their rightful place and bring them into to the present. In the autumn of 2007, supported by the Romanian Cultural Institute in Berlin, she brought her musical and theatrical performance 'Bucharest Tango' to the stage. The theatre was filled not only with Romanians living in exile, but also with tango fans who had never previously heard of the tango metropolis of Bucharest. Oana Cătălina Chiţu interprets the texts, which mainly deal with love and were mostly written for the tango stars by male composers, with the same sensitivity as the songs of the unforgotten Maria Tănase. Oana has been a great admirer of Maria Tănase for a long time and her songs have been part of her repertoire for years. During her concerts, the Romanian singer proffers spontaneous and charming translations of the highly poetic texts of the Tănase songs again and again to the audience.
When: 6 June 2014, 7.30 pm
Where: Kings Place, 90 York Way, London, N1 9AG
Tickets: £24.50 / £19.50 / £17.50 / £14.50 / Book HERE