A Musical Soul for Electronic Machines
03/04/2014 @ Cafe Oto, 18 - 22 Ashwin Street, London, E8 3DL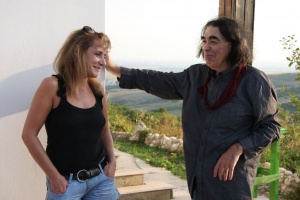 With the support of the Romanian Cultural Institute in London, spectralist duo Iancu Dumitrescu and Ana-Maria Avram returns to Cafe OTO for another enthralling show of avant-garde musical experiments. The two veterans of electronica are accompanied by Tim Hodgkinson, Jonathan Silver and Bergersen String Quartet.
Iancu Dumitrescu is revered as one of the most original contemporary composers and a leading figure of the international movement of experimental music. A disciple of legendary conductor and philosopher Sergiu Celibidache, Dumitrescu founded the Hyperion Ensemble in 1976 and started promoting a new approach to music, grounded in the spectral analysis and the phenomenology of music. His compositions, although considered difficult and strange, have gained wide recognition and are performed all over the world.
Ana-Maria Avram is a composer, pianist and conductor. She studied composition at the National University of Music in Bucharest and musical aesthetics at Sorbonne University. She has been a member of the Hyperion Ensemble since 1988. Her music, also defined as spectral, aims at the abstraction of archetypal sound by a synthesis of electroacoustic and instrumental sources. Ana-Maria Avram has composed around 130 works, including chamber music, music for orchestra, electronic music and computer-assisted music.
Cafe OTO opened in April 2008 with the aim of providing a home for creative new music that exists outside of the mainstream. It is today the most important alternative musical scene in London.
When: Thursday, 3 April, 8 pm
Where: Cafe OTO, 18 - 22 Ashwin Street, London, E8 3DL
The tickets can be purchased on-line here.