A Musical and Literary Tribute to Beauty and Grace
14/03/2014 @ ICR London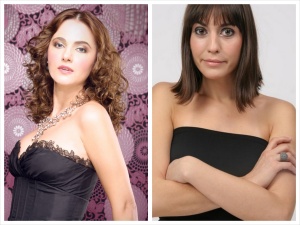 Join us for a musical and literary tribute to woman's timeless charm and beauty, performed by two of the most accomplished artists of their generation. Soprano Alexandra Coman and actress Andreea Păduraru conjure their prowess for an evening of operatic gleam and consequential evocation devoted to"the eternal feminine".
Alexandra Coman, the dazzling soprano who starred alongside opera legends like Jose Carreras and Placido Domingo, returns to London for a special operatic treat, including some of the most beloved Romanian and international songs. The soprano will be accompanied by pianist Alexandru Petrovici.

The evening will also include a presentation of remarkable women in Romanian history, as well as a tribute to women in poetry and prose, presented by actress Andreea Păduraru, rising star of Romanian theatre in London who has recently received enthusiastic accolades for her performance in Danny Boyle's 'Frankenstein' at the National Theatre.

The event is organised by The Embassy of Romania, under the patronage of HE dr Ion Jinga, in collaboration with the Romanian Cultural Institute, and with the support of MoneyGram. The gala will conclude with a vin d'honneur.
Alexandra Coman is one of the most talented and well-known Romanian sopranos. She has attended master classes held by Luciano Pavarotti and Katia Riciarelli, has performed in prestigious concert halls both in Romania and in Europe, and has shared the stage with illustrious artists such as Jose Carerras, Placido Domingo, Alex Vicenes and Carry Persson. Alexandra has an impressive repertoire as well as a versatile use of vocal registers. Jose Carreras said about her: "Alexandra Coman is a very talented artist with a great career before her", while Luciano Pavarotti described her as having "a beautiful voice of interesting colour and brilliant quality".
Andreea Paduraru is an actress and director, with a notable career both in Romania and Britain. A graduate of Bucharest Theatre and Film Academy and London's Drama Center-University of the Arts, she has been active in film industry, television, stage, radio, and physical theatre. In 2008 Andreea won the Best Actress Award at the Black and White Festival in Imatra, Finland. As film actress, she is best known for 'Bunraku' (2010), 'Sand Serpents' (2009), 'Vine poliția!' (2008), 'Cu un pas înainte' (2007) and 'True True Lie' (2006). In 2011, Andreea was highly praised reviews for her depiction of "the Female Creature" in Danny Boyle's raving 'Frankenstein' at the National Theatre.
When: 14 March 2014, 6.30 pm
Where: 1 Belgrave Square, SW1X8PH, London
Admission is free but seats are limited. Early booking is well recommended.