A Lost Classic of WWII, from Romania to the English Bookshelves
26/09/2019 @ Conway Hall, 25 Red Lion Square, Holborn, London WC1R 4RL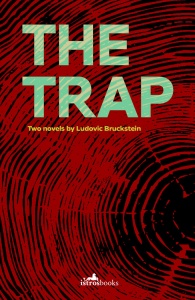 We welcome the new season with the publication, by Istros Books, of yet another Romanian title to add to your reading lists. 'The Trap', a volume comprising two of Ludovic Bruckstein's novellas that speak about struggle, survival and the rich world of Jewish culture in the Maramureș region of Northern Romania, will be launched in the company of Alfred Bruckstein, the author's son, and of publisher Susan Curtis.
Bruckstein's two novellas - 'The Trap' and 'The Rag Doll' -, published for the first time in English, offer a fascinating depiction of rural life in the Carpathians around the time of the Second World War, tracing the chilling descent into disorder and fear of two cosmopolitan communities that had hitherto appeared to be havens of religious and racial acceptance, but which were in fact constructed on foundations of prejudice and discrimination. Bruckstein presents the effects of the Holocaust not only on the Jewish community, but also the wider Christian society. His novellas tell cautionary tales of how gradual changes that individually seem inconsequential can lead to catastrophic alterations in the very fabric of society which, by the time they are acknowledged, are irreversible. These stories serve as a warning that passivity and political apathy can sometimes be just as harmful as actions.
Ludovic Bruckstein was born in 1920, in Munkacs - then in Czechoslovakia, now in Ukraine. He grew up in Sighet, a small town in Maramureș (Northern Romania), well known for its flourishing pre-war Jewish community and Hassidic tradition. In Sighet, before the Second World War, Ludovic Bruckstein's father, Mordechai, owned a small factory producing walking canes that were exported to various European countries. The family business also exported medicinal plants that grow in Maramureș, and were collected by the peasants in villages around Sighet. Bruckstein's works, novels, stories and plays deal with the sometimes cruel, sometimes comic but mostly indifferent fate of simple people whose lives are under the control of highly unpredictable forces. He describes their lives with understanding, compassion and forgiveness, smiling to the petty worries and the often meaningless and pointless activities people take so seriously, while unaware or disregarding very real, existential dangers. He belongs to a generation so well described by the writer Czeslaw Milosz in his book "The Captive Mind": "Not many inhabitants of the Baltic States, of Poland or Czechoslovakia, of Hungaria or Romania, could summarize in a few words the story of their existence. Their lives have been complicated by the course of historic events". However, in spite of the complications and tragedies, the many disappointments and missed opportunities of his own life, Ludovic Bruckstein looked at the world with humour and optimism, and a great capacity to understand and smile at it.
"Friends had given me the phone number of Leibi Bruckstein, a Communist Yiddish writer who lived on what used to be 'my' street. I called him. He was afraid to see me alone. It was 1964, and the walls had ears. But we did manage to walk together for an hour or two. 'I'm going to have to file a report', he warned me. I understood his concern. My visit threatened to call him trouble with the Securitate. He would have to be careful. […] Eighteen years later I found myself at the Wall in Jerusalem. And there was Leibi Bruckstein. What was the atheistic Communist doing in the midst of this praying throng, stuffing a piece of paper in the interstices of the Wall?" – from Elie Wiesel's memoirs, "All Rivers Run to the Sea"
When: Thursday 26 September 2019, 6pm
Where: Conway Hall, 25 Red Lion Square, Holborn, London WC1R 4RL
Free entry. Please confirm your attendance on EVENTBRITE.