A Kristin Scott-Thomas Tour de Force at the Romanian Cinematheque
18/03/2014 @ ICR London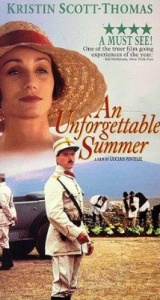 We continue our string of Romanian cinematic gems with a feature as memorable as the stormy season it imparts, starring Kristin Scott-Thomas on top of a stellar Romanian cast. 'An Unforgettable Summer' (original title 'Un été inoubliable'), directed with exceptional flair and subtlety by legendary Lucian Pintilie, is the film which the great actress is said to have considered "the peak of her career".
The event will also mark the International Day of Francophonie and is held under the patronage of HE dr Ion Jinga, our Ambassador to the Court of St James's.
'Un été inoubilable'/ 'An Unforgettable Summer'
In 1925 Romania, the cosmopolitan family of a Romanian officer is reassigned to a brutally bleak and dangerous outpost on the Bulgarian/Romanian frontier where both their relationship and humanity are severely tested.
Romania & France, 1994
Drama/Romance, 82 min
Directed by Lucian Pintilie
Written by Lucian Pintilie, Petru Dumitriu
Cast: Kristin Scott-Thomas, Claudiu Bleonț, Olga Tudorache, George Constantin, Marcel Iureș, Răzvan Vasilescu
Lucian Pintilie, one of Europe's most accomplished film directors, established himself a reputation also in theater, opera and television. Born to Romanian parents in Southern Bessarabia in 1933, he commenced his career in the 60's as a resident director at the Bulandra Theatre in Bucharest, his staging of the Romanian classic comedy 'Carnival Scenes' by Ion Luca Caragiale winning the Prize for the best direction and best production at the National Festival of Theatre in 1967.
Pintilie made his debut feature, 'Sunday at Six', in 1965. The film, which won the Grand Prize of the Jury at the International Encounter of Films for Youth at Cannes in 1967, was so upsetting for the Romanian censorship that he was not allowed to shoot his second feature, 'Reenactment', until four years later. Although initially banned, it had the international premiere at Cannes in 1970, earning him accolades in absentia. Today, 'Reenactment' is considered a seminal work for the New Wave of Romanian cinema. Compelled to work outside Romania, Pintilie shoot his third film, 'Ward No. 6' (1973), for television in neighbouring Yugoslavia. He came back home to make 'Why Are the Bells Tolling, Mitică?' in 1979, but when that film was also banned he decided to leave Romania for France, where he pursued a long and fruitful career in theatre.
Lucian Pintilie returned to film directing only after the collapse of Communism, in Romania, creating a series of unparalleled dark comedies and dramas about the absurdity of life, beginning with The Oak (1992) and continuing with An Unforgettable Summer (1994), Afternoon of a Torturer (2001), Niki and Flo (2003) and Tertium non datur (2005).
When: 18 March, 7 pm
Where: Romanian Cultural Institute, 1 Belgrave Square, London SW1X 8PH
Admission is free but seats are limited. Please confirm your attendance at T: 020 7752 0134, E: office@icr-london.co.uk
The seats are allocated on a first come, first served basis.