A Hypnotic Duo: Thomas Bowes, One of the UK's Finest Violinist and the Outstanding Pianist Verona Maier
07/10/2021 @ Romanian Cultural Institute, 1 Belgrave Square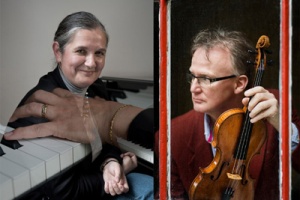 A much-anticipated in person and spectacular recital offered by the violinist Thomas Bowes and the pianist Verona Maier will open our hugely popular Enescu concert series with a programme celebrating Austrian, German and Romanian classical music. The programme showcasing the technical bravura, exceptional assurance and astonishing versatility of the duo consists of masterpieces of Mozart and Brahms is culminating with one of Enescu's most popular and at the same time most critically respected works: Sonata no 3 op 25 (Dans le caractère populaire roumain).
Programme:
W. A. Mozart: Sonata for violin and piano E minor K.304
J. Brahms: Violin sonata op 78 in G Major
G. Enescu: Sonata no 3 op 25 (Dans le caractère populaire roumain)
Thomas Bowes is one of the UK's most versatile and accomplished violinists – as a soloist, chamber musician, concertmaster and artistic director. His concerto work in the UK, Germany and the USA has included performances of the Elgar, Walton, Britten and Szymanowski concertos. Chamber music has been a major part of Tom's artistic life – he was the founding leader of the Maggini Quartet – and between 2003 and 2016 he was the Artistic Director of the Langvad Chamber Music Jamboree in northern Denmark.
Equally at home in the commercial recording studio, Tom is in great demand as soloist and concertmaster and works closely with many of today's most eminent film composers. Amongst numerous film credits are such hit-movies as the Bond films "Spectre" and "Skyfall", The Hunger Games trilogy, "The King's Speech" and "The Da Vinci Code". Tom is privileged to own and play a violin by one of the great Cremonese makers - a splendid 1659 Nicolo Amati.
Verona Maier is a renowned Romanian pianist who is also an University Professor for Chamber Music at The National University of Music, Bucharest (since 1990). In 2006, she was conferred the academic title of Doctor in music by the National University of Music in Bucharest. Her repertory covers chamber music for piano from Classicism to Romanticism and modern works, Early Renaissance and Baroque music as well as contemporary music, for harpsichord and organ. She also worked as musical advisor for several Romanian films including An Unforgettable Summer/O vară de neuitat, directed by Lucian Pintilie (1994) and Friend's Letters/Scrisorile prietenului, directed by Mircea Veroiu (1997). In 2004, Verona Maier has been awarded the Cultural Merit Medal– First class by the Presidency of Romania.
When: Thursday 7 October, 19.00
Where: Romanian Cultural Institute in London, 1 Belgrave Square, SW1X8PH
Entrance is free but we kindly request you to book your ticket on EVENTBRITE. Kindly book only if you are certain to attend and release the seats.
Please note that seating is unreserved.