A House Made of Music and Love
26/03/2015 @ 1 Belgrave Square, London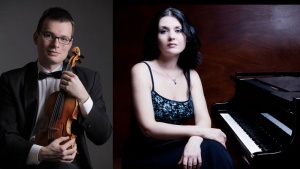 We are proud to join Pro Patrimonio Foundation, The Romanian Cultural Centre in London/The Ratiu Foundation and the Romanian Embassy in London in an offensive of charm and generosity set up to gather the necessary support in order to transform George Enescu's birthplace home into a cultural centre devoted to musical excellence. The efforts to put legendary composer's Mihaileni house on the cultural circuit culminate with a recital of charismatic violinist Alexandru Tomescu together with young and talented pianist Raluca Stirbat at the Romanian Cultural Institute in 1 Belgrave Square.
EVENING CONCERT || PROGRAMME
Fritz Kreisler (1875-1962) – Praeludium and Allegro "in the style of Pugnani" for Violin and Piano (1910)
Johannes Brahms (1833-1897) – Scherzo in C minor for Violin and Piano, WoO posth.2 from F-A-E Sonata (1853)
Eugène Ysaÿe (1858-1931) – Sonata No. 3 in D minor for solo Violin, "à Georges Enesco" (1923)
George Enescu (1881-1955) – Nocturne in D flat major for solo Piano, "Hommage à la Princesse Marie Cantacuzène" (1907)
George Enescu (1881-1955) – Sonata Op. 25 No. 3 in A minor for Piano and Violin, "dans le caractère populaire roumain" (1926), 2nd and 3rd Mvt.
----------------------------------------------------------------------------------------------------------------------------
Alexandru Tomescu (violin) is a brilliant Romanian violinist hailed by the Berlin Morning Post as the "Romanian violin superstar", plays on the 1702 Stradivarius Elder-Voicu violin. Most important project in 2015 – Enescu Experience – will include all works for violin and piano by Enescu, performed in a 4-countries, 20-events concert tour, which will aim at raising funds for the Enescu house in Mihaileni.
Raluca Stirbat (piano) is one of the most outstanding representatives of the young generation of pianists. She made her debut aged ten and performed as a child with top orchestras. Raluca Stirbat is the President of the International George Enescu Society in Vienna (which she founded 2011) and she initiated 2012 the international campaign Save Enescu's Memorial House in Mihăileni, Romania.
When: 26 March 15, 6.30 - 9.00 pm
Where: 1 Belgrave Square, London, SW1X 8PH
More details and tickets here.