A Herald of Spring: Tenor Andrei Fermeşanu Brings a Musical 'Mărțișor' to London
01/03/2018 @ Romanian Cultural Institute, 1 Belgrave Square, London SW1X8PH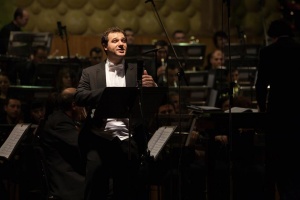 We conjure the renewing energies of spring through music with the help of charming Andrei Fermeşanu, one of the most talented young tenors of the Iaşi National Opera House. The singer will offer a programme to end all winters, featuring sing-along arias by Donizetti, Verdi, Di Capua and Bizet as well as lieder by Enescu. Andrei Fermeşanu will be accompanied by pianist Cristian Sandrin. As the event evokes old Romanian rites of spring, we shall welcome the new season, as is the custom, with a handful of 'mărțișoare' (little March, [mə rt͡siˈʃor]), for luck and prosperity. With introductory remarks by Ambassador Dan Mihalache and Romanian community leaders Veronica Costache and Alina Balațchi.
The concert is organised in partnership with the Romanian Embassy in London and 'Romanian Women in the UK' Association.
Tenor Andrei Fermeşanu studied musicology and canto, with prof. Corneliu Solovăstru, at the George Enescu University of Arts in Iași. In 2012 he became principal singer at the Romanian National Opera in Iași and was unanimously appreciated in roles such as the Duke of Mantua in 'Rigoletto' by Verdi, Nemorino in 'L'elisir d'amore' by Donizetti, Don Otavio in 'Don Giovanni' by Mozart or Count Almaviva in 'Il Barbiere di Siviglia' by the same composer. Since 2013 he has been frequently performing with the National Opera Houses in Bucharest, Craiova, and Cluj.
Born to a family of musicians from Bucharest, pianist Cristian Sandrin had his solo debut at prestigious Romanian Atheneum Hall at the age of 13. After graduating the 'Dinu Lipatti' Art College in Bucharest, Cristian moved to London where he studied under the tutelage of Diana Ketler at the Royal Academy of Music. A proactive and versatile musician, Cristian had his solo debut recital at the Wigmore Hall in London in September 2017 and his solo debut at Salle Cortot in Paris in November 2011. His passion for conducting led him to direct numerous piano concertos by Mozart from the keyboard.
When: Thursday, 1 March 2018, 19:00
Where: Romanian Cultural Institute, 1 Belgrave Square, London SW1X 8PH
Entrance is free but we kindly request you to book your ticket on Eventbrite.
Please note that seating is unreserved.