A Great Romanian Classic on RCI London's Theatre Stage
28/02/2019 @ Romanian Cultural Institute, 1 Belgrave Square, SW1X8PH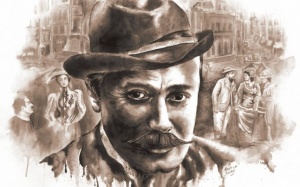 After a lengthy absence from Britain's theatre scene, renowned 19th century satirist Ion Luca Caragiale, one of Romania's greatest literary icons, is the focus of a special evening at 1 Belgrave Square.
'A Lost Letter', his witty comedy of manners that premiered in the Belle Époque and that enjoys continued relevance to this day, will be performed as a rehearsed reading by an ensemble of London-based Romanian actors.A great networking opportunity for theatre professionals – actors, casting and artistic directors, stage managers and other creatives. This event is for you!
Based on a recent translation of the play by Paul Stephenson and Laura Neacșu, the filmed performance will be the first English iteration of this famous play, serving as both an incubation project in which Romanian plays are staged for an international audience, and also the beginning of this particular work's promotion to British theatres for future stage interpretations.
Hailed as one of the greatest Romanian playwrights, Ion Luca Caragiale was not only a writer and stage director, but also a political commentator and journalist. This sophisticated background in social commentary is reflected in his most revered play 'A Lost Letter', a work punctuated by exaggerated mannerisms, characters juggling with the absurd and ridiculous and underlined by perennial human typologies, which make it maybe more relevant than ever to a modern audience.
When: 28 February 2019, 19:00 – 21:30.
Where: Romanian Cultural Institute, 1 Belgrave Square, London SW1X8PH
The reading is in English. Please confirm your attendance on EVENTBRITE.