A Gorgeous Tribute to Women Composers throughout History: The formidable duo Diana Jipa and Ștefan Doniga
03/03/2022 @ Romanian Cultural Institute 1 Belgrave Square, London, SW1X 8PH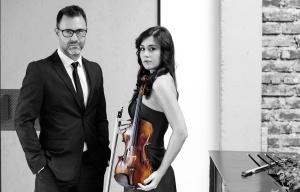 Marvel at the unstoppable force and talent of two Romanian musicians who will make up for the lack of opportunities and appreciation afforded to women composers throughout history: Diana Jipa and Ștefan Doniga. The evening's gorgeous programme will highlight superb works by Romanian composers Felicia Donceanu, Carmen Petra Basacopol, Violeta Dinescu and Mihaela Vosganian together with well-known masterpieces of Paganini, Massenet, Sarasate and Enescu.
Programme:
George Enescu - Impromptues Concertant for violin and piano.
Felicia Donceanu - Sonata nr. 1 in D minor for violin and piano.
Niccolò Paganini – The Variations on "I Palpiti" - pieces based on Tancredi by Rossini
Carmen Petra Basacopol - Sonata for violin and piano no. 1 in F-sharp minor op. 5
Jules Massenet - Meditation from Thais for Violin and Piano
Mihaela Vosganian - "Broken Heart".
Violeta Dinescu - "Satya II" for violin and piano.
Pablo de Sarasate - Fantasy on Bizet's "Carmen," for violin & piano, Op. 25.
Diana Jipa is a gifted Romanian violinist who made her debut at the age of 10 with "Gh. Dima" Philharmonic Orchestra – Braşov. She has been invited to perform with most of the Romanian philharmonic orchestras and holding recitals and concerts in Belgium, Bulgaria, China, Cuba, Czech Republic, England, Germany, Greece, Holland, Ireland, Italy, Mexico, Norway, Poland, Russia, Scotland, South Korea, Sweden. She earned the most appreciated titles of the national and international musical competitions and performed in many countries of Europe and Asia. She represented Romania in the Gala Concert that marked the signing of the Treaty of Accession to the European Union of Romania and Bulgaria, in Brussels.
Stefan Doniga is one of the most active and appreciated artists of his generation, starting his musical training at the age of 7 and completing his academic studies at the National Music Academy (Bucharest, Romania, in 2002). A national prize-winner, Stefan Doniga performed with some of the prestigious Romanian national orchestras and artists. He was invited to record together with the Romanian Radio Chamber Orchestra as well as to perform in Norway, England, Mexico, Cuba, South Korea, Italy, France, China, Luxembourg, Poland, Hungary, Ukraine, Moldova, Slovakia, Czech Republic, Austria, Bulgaria etc.
The duo represents one of most successful musical projects of their generation, performing together more than 170 recitals in the last three years and recorded 2 CDs for the National Broadcasting Company in Romania.
When: Thursday, 3 March, 7PM
Where: Romanian Cultural Institute, 1 Belgrave Square, London SW1 8PH
Entrance is free but we kindly request you to book your ticket on Eventbrite. Please note that seating is unreserved.