A Fresh Musical Season at St Martin-in-the-Fields
16/04/2019 @ St Martin-in-the-Fields, Trafalgar Square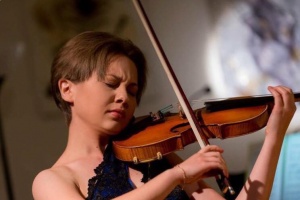 As we move forward and enjoy the warmth of the new season, two of Romania's most promising young musicians - violinist Mălina Ciobanu and pianist Mihai Ritivoiu - take the stage of St Martin-in-the-Fields for a vibrant concert of youthful fervour and old-time flavours.
Programme:
George Enescu – The Fiddler (Lăutarul)
Ludwig van Beethoven – Piano Sonata No. 7
Francis Poulenc – Violin Sonata
At the age of 7, Mălina Ciobanu started studying violin with Dr. Bujor Prelipcean at the National College of Art "Octav Băncilă" in Iași (Romania). Since the autumn of 2017, Mălina has been a student of the Barenboim-Said Academy in Berlin, under the guidance of violinist Mihaela Martin. The young Mălina already had concerts in many European countries such as Austria, Greece, Italy, Switzerland, Germany, Spain, France, and Romania. This year she performed within "The Young Classic Europe International Festival" (Germany), "Pablo Casals Festival" (France), "Encuentro de Musica de Santander" (Spain), "Chiemgauer Interferenzen SoNoRo" (Germany), and "The National Tour Cool Sound" (Romania). Up until this point, Mălina has performed numerous concerts with prestigious philharmonic orchestras such as the Moldova Philharmonic in Iași, Radio Chamber Orchestra and Royal Camerata, "Mihail Jora" Philharmonic, "Ion Dumitrescu" Philharmonic, Ploiești Philharmonic, Botoșani Philharmonic, and Târgu Mureș Philharmonic.
Mihai Ritivoiu started playing the piano at the age of 6 and, in 2012, he graduated from the National University of Music in Bucharest. Currently, he is studying at the Guildhall School of Music & Drama in London under the supervision of his professor, Joan Havill. He took part in master classes taught by Dimitri Bashkirov, Dominique Merlet and Richard Goode, and had the opportunity to study with the famous pianist Valentin Gheorghiu. Mihai won the National Competition "Dinu Lipatti" (Bucharest) in 2010, and the George Enescu International Competition in 2011. After all these achievements, the Radio National Orchestra in Romania invited him to record with them Rachmaninov's Piano Concert No.2. Both as a soloist and as a chamber musician, Mihai Ritivoiu performed in Romania, the United Kingdom, Italy, France and Switzerland. In 2008 and 2009, he received a scholarship from SoNoRo and, in the near future, he will perform within the "Yehudi Menuhin" Academy, at Barbican Centre and at the University of Warwick. Mihai Ritivoiu's studies are generously supported by Leverhulme Trust.
When: Tuesday 16 April 2019, 13.00
Where: St Martin-in-the-Fields, Trafalgar Square, London
This lunchtime concert is free and no ticket is required.