A feast of music by Yoanna Prodanova and Mihai Ritivoiu in the fantastic Enescu Series
01/04/2021 @ Romanian Cultural Institute in London, 1 Belgrave Square, SW1X 8PH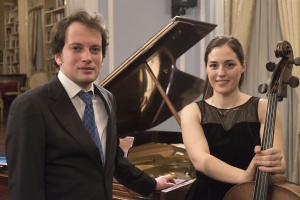 The April concert of the long-lasting Enescu Series is a feast of music performed by pianist Mihai Ritivoiu and cellist Yoanna Prodanova. The two outstanding musicians bring their unique flair and originality complementing some immortal masterpieces. The programme includes grand names such as Schumann, Enescu, Gheorghiu and Britten.
Programme:
Robert Schumann: Fünf Stücke im Volkston op. 102 for piano and cello
Valentin Gheorghiu: Sonata for piano and cello
George Enescu: Seven Songs of Clement Marot, op. 15 / Sept Chansons de Clément Marot
- Languir me fais
- Estrene de la rose
- Du confict en douleur
Benjamin Britten: Cello Sonata, Op 65
Cellist Yoanna Prodanova was born in Varna, Bulgaria and completed her studies in 2019 at the Royal Academy of Music in London where she was a Bicentenary Scholar on the prestigious Advanced Diploma course, having obtained her Bachelor and Master's degrees at the Guildhall School of Music and Drama. Yoanna has performed with the Royal Academy of Music Orchestra, the Amati Orchestra, the Surrey Philharmonic and the Guildford Symphony Orchestra among others.
In 2019 she gave her recital debut in Switzerland at the Studio Ernest Ansermet where she played the Swiss premiere of Valentin Gheorghiu's Sonata for cello and piano with her duo partner Mihai Ritivoiu. Yoanna's debut album including works by Janacek, Fauré and Chopin with Mihai Ritivoiu was released in 2020 on the Linn Records label. She has also recorded the Brahms clarinet trio with Joseph Shiner and Somi Kim for Orchid Records.
Yoanna's awards include The Philip and Dorothy Green Award for Young Artists (2016), the Sylva Gelber Award (2017, 2018), Tunnell Trust Award (2019) and the First prize at the International Joachim Competition in Weimar with her string quartet, the Barbican Quartet. Her most important cello mentors have been, in chronological order: Daniela Kirilova, Denis Brott, Louise Hopkins, Rebecca Gilliver, Richard Lester and Hannah Roberts.
Pianist Mihai Ritivoiu is the winner of the Dinu Lipatti National Competition in 2010 and of numerous international competitions, including the George Enescu Competition in 2011 (Bucharest), the Tunbridge Wells International Youth Competition in 2014 and the Citta di Cantu International Competition in 2018. He was awarded the gold medal at the Beethoven Piano Society of Europe Intercollegiate Competition in London. He has performed with the Bucharest Philharmonic Orchestra, the Lausanne Chamber Orchestra, the English Chamber Orchestra and the MDR Leipzig Radio Orchestra. Graduated with the highest distinction from the National University of Music in Bucharest and the Guildhall School of Music & Drama in London, Mihai studied with Professors Viniciu Moroianu and Joan Havill.
In addition to his solo recitals and concerto appearances, Mihai has a rich chamber music activity, most notably as duo partner of the cellist Yoanna Prodanova. Their duo has performed in the UK, France and The Netherlands, and they have been invited to festivals such as Les Rencontres de Violoncelle de Bélaye, Alderney International Chamber Music Festival, Orkney International Festival and Buxton International Festival.
When: 1 April 2021, 19.00
Where: Live stream on RCI London's Facebook page, YouTube channel and website