A Date with Carmen
20 - 23/09/2012 @ London & Canterbury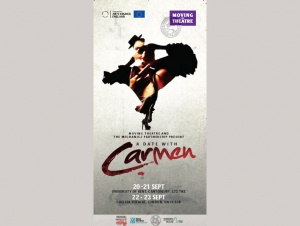 We are delighted to recommend a new and exciting showcase inspired by the famous story of Carmen starring internationally acclaimed theatre and film actress

Maia Morgenstern. "A Date with Carmen"

,

encompassing theatre, radio and dance,

will take place in London and Canterbury between 20 – 23 September 2012

. Starting from a new adaptation by Saviana Stănescu and

Kit Hesketh-Harvey

, the showcase invites five companies from four countries to reinterpret Prosper Mérrimée's immortal novella.
A
Date with Carmen is produced by Moving Theatre Company and The Mechanics Partnership with support from The Arts Council and The European Commission.
Maia Morgenstern has performed extensively in film, theatre and radio, most notably as Medea in "Trilogia antică" (Ancient Trilogy), directed by Andrei Şerban and as Nela in "Balanța" (The Oak), directed by Lucian Pintilie. In the English-speaking world, she is probably best known for the role of Mary in Mel Gibson's "The Passion of the Christ". She currently also holds the position of Artistic Director of the State Jewish Theatre in Bucharest.
Saviana Stanescu is a Romanian-born award-winning playwright. Her work has been widely presented internationally and in the US. Recent productions include "For a Barbarian Woman" (a co-production Fordham/EST directed by Niegel Smith), "Aliens with extraordinary skills" at Women's Project (published by Samuel French), "Bechnya" at Hudson Theatre in LA, "Waxing West" (2007 New York Innovative Theatre Award for Outstanding Full-length Script) at La MaMa Theatre, "Suspendida" and"Vicious Dogs on Premises" (with Witness Relocation) at Ontological Theatre,"Polanski Polanski" and "Aurolac Blues" at HERE Arts Center, "The E-Dating Project" at Strasberg Institute for Theatre&Film, and the site-specific "I want what you have" at the World Financial Center.
When: 20 – 23 September 2012, please find complete programme at http://carmen-theworks.eu
Where: The University of Kent, Canterbury, CT2 7NZ & Chelsea Theatre, London, SW10 0DR
Tickets: £5 (single event) / £7.50 (two events) / £20 (all events at one venue) / *free event
Book at: http://carmen-theworks.eu, http://www.chelseatheatre.org.uk or by emailing us at carmenbookings2012@gmail.com.
Facebook: http://www.facebook.com/CarmenTheMechanics
Twitter: @carmentmechanic