Ana Podaru (1974-2019): A Celebration of her Life and Literary Work
28/10/2019 @ Romanian Cultural Institute, 1 Belgrave Square, London SW1X8PH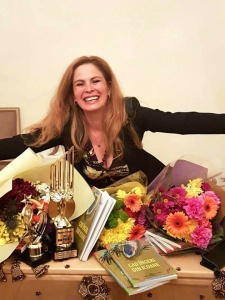 The Romanian Cultural Institute in London holds an emotional commemoration of poet Ana Podaru, who has recently passed away. Her family, friends and fellow poetry enthusiasts will gather to honour her memory and to celebrate her life and work.

Ana Podaru was born on 27 October 1974, in Bacău. She spent her childhood in the countryside and then went to secondary school in the city, where she fell in love with the poems of George Bacovia, Mihai Eminescu and Adrian Păunescu. She graduated from the Medical School in Petroşani and worked as a nurse in several hospitals. Ana Podaru made her editorial debut in 2014 with the poetry volume Firimituri de fericire (Crumbs of bliss). In 2015, she published Butterflies in Inferno, a bilingual edition in Romanian and English, launched at the Wembley Library in Brent, London. In 2017, she published a new book entitled Cold October 13th. Her latest publication was Husky dolls, a poetry book for children, in Romanian and English. Ana Podaru passed away on 9 October 2019.

The author recorded some of her poems on her Youtube channel (in Romanian). Please note the event will feature poems both in Romanian and English.

When: Monday 28 October 2019, 19:00
Where: Romanian Cultural Institute, 1 Belgrave Square, SW1X8PH, London
Please confirm your attendance on Eventbrite.