A Celebration of Romanian Composition Verve
30/09/2014 @ St Martin-in-the-Fields, Trafalgar Square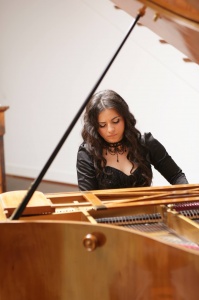 The autumn season of the hugely popular Romanian Series at St Martin-in-the-Fields presents impetuous young pianist Ana Silvestru in a recital featuring the British premiere of works by Laurențiu Beldeanu, Doina Rotaru and Ulpiu Vlad, some of the most prominent contemporary Romanian composers, alongside timeless pieces by Liszt and Mussorgsky.
Programme:
Franz Liszt - 'Weinen, Klagen, Sorgen, Zagen'
Vladimir Scolnic - 'Keyboard Games' and 'Irresistible Dreams of a Pianist'
Laurențiu Beldeanu - 'Grappled Voices' (composition dedicated to Ana Silvestru)
Doina Rotaru - 'Samaya'
Ulpiu Vlad - 'Echoes III'
Modest Mussorgsky - 'Pictures at an Exhibition'
Praised by piano legends such as Konstantin Scherbakov as being 'extremely gifted', or Dmitri Bashkirov as being 'brilliantly gifted, with a vivid artistic temperament, high class, a splendid sound and diverse repertory', Ana Silvestru has established herself as a musical storyteller with extraordinary sensibilities, deep musical understanding, a wide expression range and a volatile temperament, fully capable of creating extraordinary life experiences out of each and every interpretation. Ana debuted at the age of 13 in her native Romania, and began touring internationally by the age of 17. She has played as a soloist in Romania, Poland, Czech Republic, Germany, Austria, France, Switzerland, Netherlands, Spain, Israel and Japan, in venues such as the Tonhalle Zurich, Musikkollegium Winterthur, Simon and Juda Church in Prague, and the Hebrew University in Jerusalem. She has also performed in festivals such as the Wagner Festival and the Schubertiade Festival in Zurich, the Archipel Festival in Geneva, and the Yehudi Menuhin Festival in Gstaad. After graduating from the National University in Bucharest (in the class of Viniciu Moroianu), and after studying further in 2004 in the class of Karl-Heinz Kaemmerling in Salzburg (with an Erasmus scholarship), Ana continued her studies with Konstantin Scherbakov at the Zurich University of Arts, where she completed both her Concert and Soloist Diplomas with highest honours, graduating in 2012. During her studies in Zurich, Ana was an avid chamber music player (in the classes of Ulrich Koella, Radovan Vladkovic, Fabio di Casola), and also dabbled in improvisation (with the help of Andre Desponds) and the study of historic piano (in the class of Michael Biehl). Ana Silvestru's current projects include the release of her first solo CD (with works by Mussorgsky, Vladimir Scolnic and Franz Liszt), a CD of Schuberts' 'Winterreise', as well as recordings of Ravel's Concerto for left hand and orchestra, and Mussorgsky's complete songs.
When: Tuesday, 30 September, 1pm
Where: St Martin-in-the-Fields, Trafalgar Square, London
This lunchtime concert is free and no ticket is required.