The Visionary of Bournemouth, Remembered on Belgravia's Busiest Chamber Music Stage
06/06/2013 @ Romanian Cultural Institute, 1 Belgrave Square, London, SW1X8PH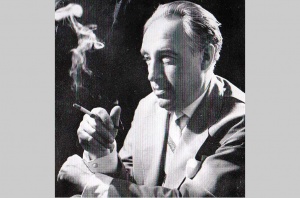 The final concert of the 2012-2013 Enescu Concets Series celebrates the genius of Constantin Silvestri at 100 years since his birth and, at the same time, the legacy of the seminal friendship between two great composers, Silvestri and Enescu. Pianist Anda Anastasescu pays tribute to them both in this concert, performing works for solo piano and chamber music with outstanding members of her group, The London Schubert Players.
Legendary Romanian conductor and composer Constantin Silvestri was principal conductor of the Bucharest Philharmonic, Romanian National Opera and National Radio orchestras, and of the Bournemouth Symphony (1961-1969), which he transformed into an orchestra of international repute. He conducted the world's finest orchestras and many of his recordings have been recognized as being among the greatest ever. As a composer, Silvestri is considered to be Romania's second, after Enescu. As with Enescu, the greatness of Silvestri's music is the result of its uncompromising sincerity, magic, passion and of its complex musical language. The two revered musicians crossed their paths several times. Enescu honoured Silvestri's compositions with his coveted Enescu Prize and by conducting one of his works. Silvestri conducted first performances of many of Enescu's works including the Romanian Première of the monumental opera "Oedipe".
Musicians: Pianist Anda Anastasescu and The London Schubert Players: Natalia Lomeiko – violin, Yuri Zhislin – viola, David Cohen – cello, Dominic Worsley – double-bass and Radu Bitica – solo violin, some of the most sought-after musicians of their generation and string leaders in orchestras such as London Symphony, London Philharmonic, Philharmonia and BBC Symphony. The Players are joined by special guest, Romanian baritone Cozmin Sime.
Programme:
Constantin Silvestri: Jeux d'Enfants, Op 3 No. 1
George Enescu: Impromptu concertant
George Enescu: Impressions from Childhood: The Fiddler
George Enescu: Doina
George Enescu: Eu mă duc, codrul rămâne (I'm leaving, but the forest stays)
Constantin Silvestri: Die Fruhen Gedichte
Constantin Silvestri: Jeux d'Enfants, Op 3 No. 1
Franz Schubert: Trout Quintet
Since winning the Debussy International Piano Competition in Paris in unanimity of the jury Anda Anastasescu has performed on five continents in prestigious festivals and concert halls. Antoine Goléa, the famous Doyen of French critics wrote about her:"‹ Yet another pianist! › you may think. No, of this calibre the world can never have enough.' She is a Commander of the Order of Cultural Merit in her native Romania; a European Woman of Achievement in the arts in Great Britain 'in recognition of an outstanding contribution to pan-European understanding and progress that provides an inspiration to others'; President of the Constantin Silvestri International Foundation; and recipient of the Romanian Ambassador Diploma 2013 'for exceptional contribution to the promotion of Romanian culture'. Her performances across the world and her recordings on 11 CDs from Mozart, Schubert, and Mendelssohn to Enescu and the contemporary composers have been consistently praised for their artistry, passion and imagination.
More about Constantin Silvestri, Anda Anastescu and the members of the London Schubert Players Enesemble:
www.constantinsilvestri.com/
www.romanianmusicaladventure.org/
www.compositiontoday.com
http://www.pcuk.net/musiclink.co.uk/lsp/aa.html
www.invitationtocomposers.co.uk
Interview on BBC Radio 4
When: Thu 6 June 2013, 7pm;
Where: Romanian Cultural Institute, London
Admission is free, but places are limited. Early booking is well recommended.
Please reserve your seats at T: 020 7752 0134, E: office@icr-london.co.uk
The seats are allocated on a first come, first served basis.