A Brilliant Adagio for the London September
19/09/2017 @ St Martin-in-the-Fields, Trafalgar Square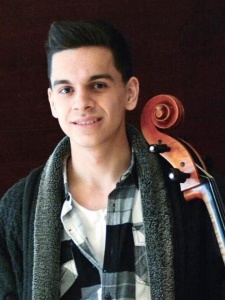 Cellist Cornelius Zirbo and pianist Dimitri Malignan crown a perfect September afternoon in the heart of London with a mesmerising combination of Schumann, Hindemith, Lipatti and Piazzolla as part of the Romanian Series at St Martin-in-the-Fields. With guest pianist Miriam Drașovean.
Pianist Dimitri Malignan was born in Paris in 1998. He is the grandson of Henry Malineanu, a revered Romanian composer. Dimitri started taking piano lessons at the age of 5 with French pianist Nicolas Horvath. In September 2016, he began his studies at the Royal Conservatoire in Hague. Dimitri has participated in numerous international competitions like "Mihail Jora" Competition in Bucharest, Romania, "Anton Garcia-Abril" Competition in Teruel, Spain, "Bradshaw & Buono" Competition and "American Protégé" Competition, both in New-York City and "Osaka Music Competition", Japan.
Cellist Cornelius Zirbo is studying at "Dinu Lipatti" National High School of Arts in Bucharest with prof. Octavian Lup. Cornelius has worked with famous cellists Gautier Capuçon, Frans Helmerson, Götz Teutsch, Emeric Kostyák, Răzvan Suma, Marin Cazacu, Jan-Erik Gustafsson, Maximillian Hornung, Jacob Shaw, Wendy Warner and Romain Garioud. He has participated in many competitions in his country and abroad such as "StreichWerk" International String Competition, Berlin, Germany, International Competition "Concertino Praga", Prague, Czech Republic, International Cello Competition "Antonio Janigro", Poreč, Croatia, International Competition "Young Virtuosos", Sofia, Bulgaria, "Mihail Jora" Competition, Bucharest, Romania.
Miriam Drașovean was born in 1993 and began studying the piano at the age but of 7. She is currently studying for a master's degree at the National University of Music Bucharest. Over the years, she has participated in numerous national and international contests and masterclasses. Miriam is the recipient of the 2nd Prize and the Special Prize "Frederic Chopin" at the "Carl Filtsch" - Sibiu International Contest, the Prize for Excellence at the "J.S. Bach "- Cluj Napoca, the "Suzana Szörenyi" Prize and the Special Prize for accompaniment at the "Ionel Perlea" National Festival.
When: Tuesday, 19 September, 1pm
Where: St Martin-in-the-Fields, Trafalgar Square, London
This lunchtime concert is free and no ticket is required.