Îndrăgita Rapsodie română de George Enescu, la Royal Festival Hall
28/11/2018 @ Royal Festival Hall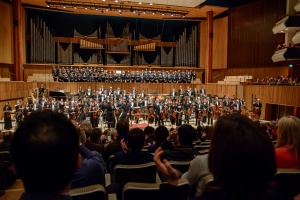 'Romanian Rhapsody', the postcard masterpiece of George Enescu, will delight the audience of the Royal Festival Hall, in an exceptional concert by the prestigious London Philharmonic Orchestra.
On the occasion of the National Day of Romania and as yet another event of great impact in celebration of the Romanian Centenary (1918-2018), we are proud to partner up with this acclaimed orchestra, for a concert which also features new French music - Pascal Dusapin's 'At Swim-Two-Birds' (UK premiere), Bohuslav Martinů's Symphony No. 4 and Maurice Ravel's deliriously decadent 'La Valse'.
The symbolism of this event is even richer, as exactly 100 years ago on 28 November the General Congress of Bukovina, historical Romanian province at the time part of the Austro-Hungarian Empire, decided to unite with the Kingdom of Romania.
Celebrate with us one of the key moments in our history!
Programme:
George Enescu: Romanian Rhapsody No. 1
Pascal Dusapin: At Swim-Two-Birds (UK premiere)
Bohuslav Martinů: Symphony No. 4
Maurice Ravel: La Valse
Andrés Orozco-Estrada: conductor
Viktoria Mullova: violin
Matthew Barley: cello
The London Philharmonic Orchestra is one of the world's finest symphony orchestras, balancing a long and distinguished history with a reputation as one of the UK's most adventurous and forward-looking orchestras. The Orchestra was founded by Sir Thomas Beecham in 1932, and since then has been headed by many of the great names in the conducting world. The Orchestra's current Principal Conductor is Vladimir Jurowski, appointed in 2007.
Conductor Andrés Orozco-Estrada is, from the 2015/16 season, the Orchestra's Principal Guest Conductor and is one of the most sought after conductors of his generation. In September 2014, he took up the positions of Music Director of the Houston Symphony and Chief Conductor of the Frankfurt Radio Symphony Orchestra. In addition, Orozco-Estrada has been appointed Music Director Designate of the Vienna Symphony as of the 2021-2022 season.
The event is part of a series celebrating the National Day of Romania, organised in partnership with the Embassy of Romania in London.
When: Saturday 23 September, 7pm
Where: Southbank Centre, Royal Festival Hall, Belvedere Rd, Lambeth, London SE1 8XX
Tickets
: £ 65 - £ 10 -
HERE