2020 National Day Talk: The Saliency of the Past - Some Thoughts on the Romanian Experience by Professor Dennis Deletant
01/12/2020 @ online | Facebook page and YouTube channel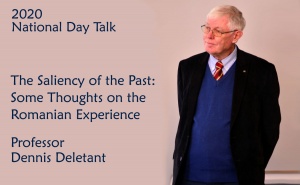 Every year on Great Union Day, celebrated at the beginning of December, RCI London invites prominent academics to reflect on Romania's past. The 2020 National Day Talk is given by Professor Dennis Deletant OBE, world authority in Romanian studies.
The lecture entitled "The Saliency of the Past: Some Thoughts on the Romanian Experience" shares with the interested public some of the key contributions Dennis Deletant made during his decade-long tenure of the Ion Ratiu professorship at Georgetown University with a focus on two sons of Transylvania: Nicolae Mărgineanu (and his autobiographical memoir, published as Witnessing Romania's Century of Turnoil. Memoirs of a Political Prisoner. Nicolae Mărgineanu, Rochester NY: University of Rochester Press, 2017) and Iuliu Maniu (whose relations with the British are the subject of a 600-page collection of documents drawn largely from the British Archives and published in Romania - George Cipăianu, Dennis Deletant, Attila Varga, Attempting the Impossible. Iuliu Maniu, the British, and Romania's Predicament during the War (1940-1944). Încercând imposibilul. Iuliu Maniu, britanicii, și situația dificilă a României în timpul războiului (1940-1944). Academia Română. Cluj-Napoca: Argonaut, 2020).
The event is part of the programme celebrating 140 years of diplomatic relations between the United Kingdom and Romania.
A reputed expert in Romanian studies, Professor Dennis Deletant OBE is Emeritus Professor of Romanian Studies at the School of Slavonic and East European Studies, University College, London.
Between 2011-2020, he was Visiting Ion Ratiu Professor of Romanian Studies at Georgetown University, Washington DC and he was Professor of Romanian Studies at the University of Amsterdam (on secondment from UCL) between 2003 and 2010. He was appointed to the board of the British Government's 'Know-How Fund for Central and Eastern Europe' in 1990 and was actively involved in its work in Romania and in the Republic of Moldova until 1999. For this service he was made an officer of the Order of the British Empire in 1995. He was awarded 'Ordinul pentru merit' with the rank of commander for services to Romanian democracy on 1 December 2000 by the President of Romania.
He is the author of several monographs and volumes of studies on the recent history of Romania, among them Ceauşescu and the Securitate: Coercion and Dissent in Romania, 1965-89 (London; New York, 1996), Romania under Communist Rule (Bucharest, 1998), Communist Terror in Romania: Gheorghiu-Dej and the Police State, 1948-1965, (London; New York, 1999) and Ion Antonescu. Hitler's Forgotten Ally (London: New York, 2006) and British Clandestine Activities in Romania during the Second World War (Palgrave London, 2016). His most recent study, Romania under Communism: Paradox and Degeneration, was published by Routlegde (Oxford, New York) in January 2019.
When: 1st December 2020, 19.00
Where: online, on RCI London's Facebook page and on YouTube channel.
Free.